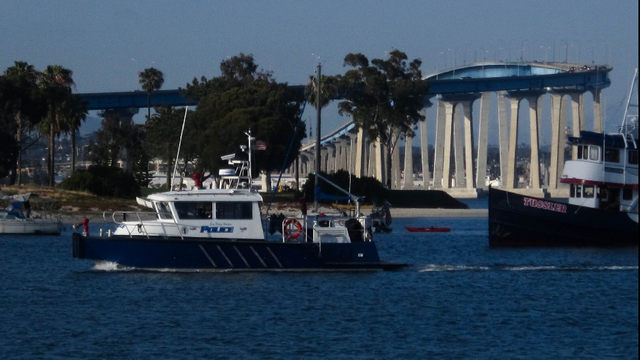 I have a lot of photos of this little Police Boat. It runs up and down San Diego Bay all day, every day looking for people to ticket. Every once in a while some real action happens, and this boat will always be on scene.
On this day, I was on my way to go swimming at the Coronado Municipal Pool near sunset and got some good light. I love how all the blues stand out and create a bit of a monochrome effect.
In this shot, the San Diego Coronado Bridge takes a role, and a tiny red skiff is being dragged by a sailboat you cannot really see. This is such a typical day on the Bay and takes me back to that time.
This post is my entry for the NEOXIAN CITY PHOTO CHALLENGE - WEEK : #9 with the theme of "Boats." Show us your boat photo, and you can enter too.
I used a Canon ELPH160 point and shoot camera for this photo.
What I do on STEEM
freewrite daily with @mariannewest
Minnow Tips
Photography
Travel
Food and ccc contest posts
Tasteem restaurant reviews
@pifc contest entries
dApp, tokens/tribes and gaming review posts
dpoll- STEEM and lifestyle questions
BitcoinMalaysia playing card posts; coming soon!
My most recent summary of Minnow Tips is here:
These tips will help you if you are new and struggling on STEEM. Tag me in any comment, and I will help you if you ask me to.
Find me on Discord:
fitinfun#2249
Email me:
sjfrenchtosd at yahoo.com <<< NOT my paypal address