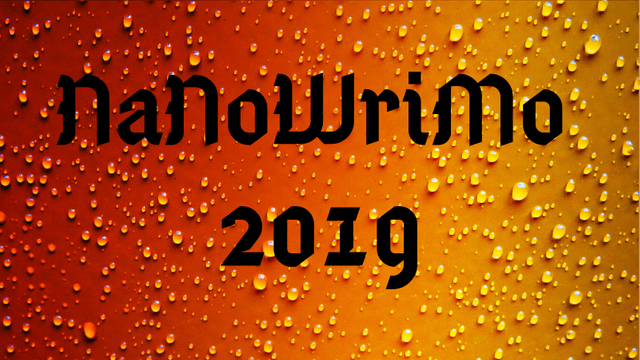 ---


If you happen to live in San Diego and are participating in the NaNoWriMo Madness, here are some places to meet up with fellow writers and get some support and have fun. None of these work for me this week - but maybe next week I will go. If I do, I post pictures here :)
I am also tagging the post as #sandiego - just because I live here. But there is another reason. @ackza started the Sand token that is San Diego specific and I think it would be fun to somehow use it as an incentive for local writing get-togethers. Rewards are always nice!
[Online] Discord Write-In
Monday, Nov , 2019, at 7:00 pm on the regional Discord Virtual Write-Ins channel.
[ML-run] Fenton Parkway Starbucks Write-In
Tuesday, Nov , 2019, at 5:30 pm
[Wrimo-run] Mira Mesa Souplantation Write-In
Wednesday, Nov , 2019, at 11:30 am
[Wrimo-run] UCSD Friday Lunch Write-In
Friday, Nov , 2019, at 12:30 pm
[Wrimo-run] Darkstar (UCSD) Write-In
Saturday, Nov , 2019, at 1:00 pm
I didn't get any more updates - but am pretty sure those are weekly events.
NaNoWriters on Steem
Check out what we are up to at the Freewrite House. This post will be of particular interest to you.

Disclaimer
I was planning to write 50,000 + words this month in the spirit of NaNoWriMo - National Novel Writing Month but I might not get there. We shall see. But I am going to ignore the Novel part and write whatever I want to. I am doing a complete stream of consciousness style of writing. It might become a Novel, it might look more like morning pages - basically, word vomit onto the page to empty the brain. Maybe, I get a bunch of good blog posts out of it. I don't know. Feel free to read it - or not. Quality is not ensured! 😂

Day 26
I have no idea what happened to me. I was writing. I was having fun writing. I was writing every day - well, almost every day. And suddenly, something happened and I didn't want to write anymore.
In my last effort, the last day I felt I had something to say - or rather, wanted to share something, I had written about how my little dude was bullied at school. The very next day, I drove somewhere and listened to the news. Always a mistake these days since good news seems to belong to a far away past. Anyway, the news of the day was a shooting at a school with several people dead at the scene. The very next news spot was a memorial in El Paso remembering the mass shooting in the mall. Followed by news about the nonsense that is our political landscape right now.
The overall life depression hit me hard right at that time and eliminated all desire to write and open myself to the world.
I fear for the future of my little dudes. Let's face it, I already lived most of my life and it has been a privileged life at that. Sure, I had some hardships and such, but I have been fortunate to not live in a country where a war is being fought.
I do live in a country that fights wars - but not on its own soil. That actually was a big reason for me to leave Germany - the knowledge that war can happen on the drop of a pin and that the US is not fighting wars on its own soil.
Where I grew up in Germany, the small town I am from, was surrounded on three sides by the border to East Germany.
Our town was part of an independent Dukedom until 1918 and our Duke decided to annex to Bavaria instead of Sachsen which would have made more sense geographically.
Hence, the border was more than a reality for all of us living in that area. We could see East Germany from the watchtower of our Veste. The Veste is a castle build on the top of a hill in a way that it is easily defended. In times of war, the population retreated to the Veste and lived within the walls. A moat around the Veste was one of the defenses, of course, there was the drawbridge and the spikes that functioned as a barrier before the door if intruders have made it that far.
That spike contraption used to scare me to death when we went to visit the Veste. We used to go quite often since it was a free way to entertain the family. Sunday afternoon walks are common in Germany and the way from the town to the Castle led through the Hofgarten - a garden, or rather a park with several well maintained walkways leading up to the castle.
In the days of the dukes, the common folks didn't have access to the park. It was for the members of the court only and connected the summer castle to the Veste. The summer castle is on the same level as the town. and faced by the Opposite of it is the theater and the large open space between them holds the Bronze Statue of one of the Dukes.
Even though I have walked by it many, many times, I can't remember which Duke it was and what his contribution to the world was. Details like battle names and years have never interested me very much. Or the names of a particular Duke and his years of reign. What interests me are the stories, conflicts, and human interactions.
I found it of interest that my town has access to incredible amounts of art of all different genres due to the blue blooded family that reigned. That family was well connected all over the world. The most famous connections are with the English Royal family. Prince Albert of Coburg was the husband of Queen Victoria. She was a frequent visitor to the castles and is one of the main reason that they are still well preserved and didn't get destroyed in the Second World War.
Why, you ask - and yes, I know we have gone far away from the scary spear falling door, but somewhen later, we will get back to that.
Let's talk about why the castles and the town weren't destroyed during the war. It is not because it is a very old town - first mentioned in 1056 and it certainly was not a lucky coincidence.
Here is a little bit of history I didn't know until I was an adult and went on a tour of the summer castle called the Ehrenburg. Mind you, that wasn't my first tour through the castle, but it was the first time that I heard that Winston Churchill had made provisions for the Allied Forces to spare Coburg out of respect to the memory of Queen Victoria.
The guide pointed out a couple of holes in the tapestry caused by an American soldier firing a gun out of anger and in defiance of the orders.
Why would the soldiers be so angry?
I didn't know because for some reason, in our History lessons in school, we never got to the Second World War. And our parents, uncles, and aunts who had lived through the war very seldom wanted to talk about it. If they did, it was never about the political situation and god forbid, about their role, ideas, or actions at the time.
During that tour of the castle, I learned that my hometown had the distinction to be the very first brown - that means Nazi - town in Germany. Coburg had the first nazi mayor and was happily supporting Hitler. Of course that was a history nobody wanted to talk about - especially not about their own involvement in the movement.
I know that my father was an officer in the war and that my uncle died on the Russian front.
I know that their father, my grandpa, was arrested and spend some time in a camp for being a Union organizer or maybe just a member of a union.
I know that my father fought all his life for the rights of the people and was a Social Democrat.
I know that my mother came from an upper class upbringing and that her life dramatically changed through the war. She grew up with maids, cooks, and such. During the war, she had to serve in households like all young women had to do and learned how to clean and cook and whatever else it takes to run a house.
I know that she had five kids (I am the forth) and worked hard to create a similar atmosphere to that she had growing up. Well, we had to help with chores and such, but we took all our meals at a beautifully set table. We had different dishes and table clothes for breakfasts, lunch, and dinner and all of our clothing was always ironed.
I don't know what my father thought and did as a young man. His diaries disappeared after he passed away.
I don't know if my mother decided that we shouldn't read them or if they somehow got thrown out by accident.
I don't know what my mother felt about the whole Nazi business and if asked about that time, never really gave an answer - just saying that they didn't know what was really going on.
In short, it was a time cloaked in silence.
Sure, we heard some details about her time in the household years. Things like having to dust a house and the lady of the house came with white gloves to check their work. Were the picture frames cleaned? All the dust gone on the door jam?
Or, that they had to wax the floors and then polish with their fingers since that gave a better glow. Crazy, right?
But she certainly learned to clean and so did I. Nevertheless, I do hate cleaning. We also had household help as long as I can remember. That was more than necessary in the days when everything needed to be done by hand.
I was the forth child and when I was a child - hopefully when I was a baby- my mom got her first washing machine.
Before that, all the clothing had to be washed by hand. We still had the big build in kettle in the basement. A fire heated a huge batch of water where the clothing was washed, then rinsed, wrung by hand and carried up to the attic to be hang on lines to dry.
That part was my reality as well. We had a washer, but not a dryer. Every load had to be carried up about 20 stairs and then hang up on lines that criss crossed the whole attic. In each direction was a round opening to the outside so wind and air could come in and dry the clothing.
If it was cold in the winter, the clothes basically freeze dried and we had to be very careful when taking it down. If it was frozen stiff and get folded, it could ruin the fabric.
But here I am. Digressing into hanging up clothing memories when writing about the nazi past of my town and possibly my family. A great example how we just never got to that topic - anywhere.
Not in our families.
Not in our schools.
Not in our town's debates.
So, I was a little bit shocked when I found out about our not so glorious past. By this time, I had lived in the US for a bit and had started to be in contact with some Germans. I missed singing and had joined a German choir.
Everybody seemed very nice and I was invited to some Kaffee Klatsch gatherings.
Now, what you need to know is that the coffee and cake afternoon event practiced in Germany is one of the few things I miss from my birth land culture. I love coffee and cake!!
The beauty of it that it can be as simple as the family coming together, drinking a cup of coffee and eating a bread with home made jam. Or it can be a super formal invitation with a table set with the best china and real silver utensils - polished for the occasion of course - with torte, cakes, and lots of whipping cream. Everyone is dressed up, the hair is freshly coiffured (not mine, it doesn't lend itself to that), and everyone is ready to gossip their hearts out.
And then, there is everything in between. Baking a cake for friends, coming together causally, or going out to the confectionery and choosing a piece from all the deliciousness presented in the glass cases.
Because it has such a range - from super casual to very elaborated, and because often, there is whipping cream involved and that got to be one of my favorite foods ever, I love Coffee and Cake, Kaffeeklatsch, or whatever you want to call it so much.
Now, with time, the what I then thought are elderly ladies, invited me to their gatherings outside of choir practice. At the time, I was in my thirties and starting to feel old. They were probably in their 50th or early 60th and seemed ancient to me. Since I have arrived in that age group, I don't consider that old anymore. Pretty funny how time, age, and so many other things in life are on such a fluid continuum.
Back to the in my mind then old and now young ladies that invited me for their gatherings. With time, they seemed to think that I was one of them and they came out with their theories that the Holocaust never happened. To voice that opinion is a crime in Germany by the way.
I had heard that many Nazis had fled after the war but that was my first encounter with people of that opinion.
We grew up with an incredible amount of guilt. Mea culpa, mea culpa was the slogan of our generation. Of course, we didn't have anything to do with what happened during the war. I was not even an afterthought at that time and made my appearance many years after the war had ended. But all of Germany carried that guilt and even though we never got to any particulars of that recent history, we got constantly reminded that we, as a nation, are guilty. Along with that came the mandate to watch you State. That the government can and will do bad things and that it is the responsibility of the citizens to watch out, be vigilant, to protest if the State goes wrong.
I had never encountered anyone that had stated that it was all a lie. We didn't know - yes, that we heard when we really prodded our family and relatives. However, those conversations were over fast.
Now, I was in the middle of the overall very nice women who were convinced that the Holocaust had never happened. They said that they had met people in New York that supposedly had died in the concentration camps. They had books and videos proofing that it never happened. Or at least not being perpetrated by Germans.
I was shocked but also curious how that could be.
On my next trip home, I asked my mother about this - really asking about the time of the war. The time she was in Germany, alive, a young adult, and in the middle of it.
Her first reaction was to call me a Nazi for even asking that question. It took me a long time to get my point across that I was curious how that kind of books and videos, not just a few but many, could be out there. I wanted her to tell me what she had seen and witnessed. That is when I got the "We didn't know" answer.
More tomorrow :)

Join us for the daily 5 - Minute Freewrite. Check my profile for a new prompt every day.
I am adding the CC tag to all prompt posts and to most of my other posts as well. You can earn Comment Coins simply by leaving a good comment. No spam please!!!

All images are my own unless otherwise cited.
Graphics made on Canva.


Animation By @zord189

#SoCalSteemit is building and supporting the Steemit community of Southern California. If you are from SoCal and are into creating quality content here on Steemit, we'd love for you to follow us @SoCalSteemit and join our group on Discord!

Join @Actifit, become healthier by being active and earn as you walk. My referral link
Join us at the Freewrite House for fun and games!!! Weekly drawing for SBI memberships and so much more!!

And get your Freewrite House Swag here