For this weeks Show Us Your California contest by @thesocalhive I share a backpacking trip with my mom in northern Yosemite from...
Hetch Hetchy to Tuolumne!!

We woke up early at the Crane Flats campground in Yosemite national park. We got our backpacks loaded up and ready to go. We drove out to the Hetch Hetchy reservoir, parked the truck and hiked down to the O'Shaughnessy Dam. This was my first time at Hetch Hetchy and, although it was a bit smokey because of some wildfires in the park, the views across the reservoir to Wapama falls, and down over Poopenaut valley below the reservoir were all amazing and were really getting me excited for the rest of the trip! We started making our way along the trail around the reservoir to the base of Wapama falls, a spectacular 1,080' waterfall!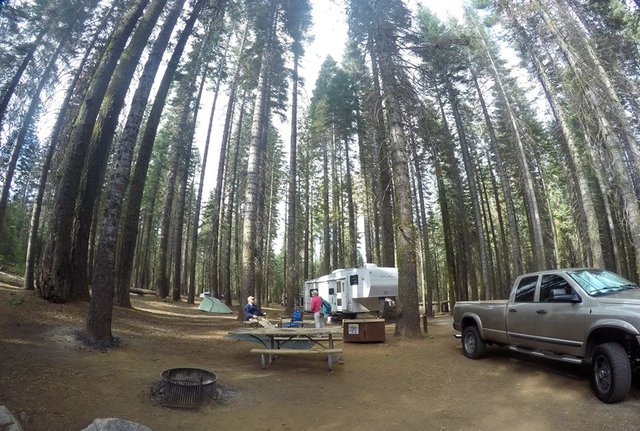 Crane Flats campground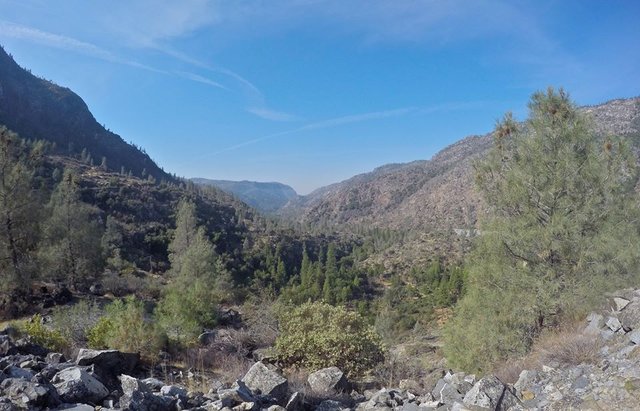 Overlooking Poopenaut valley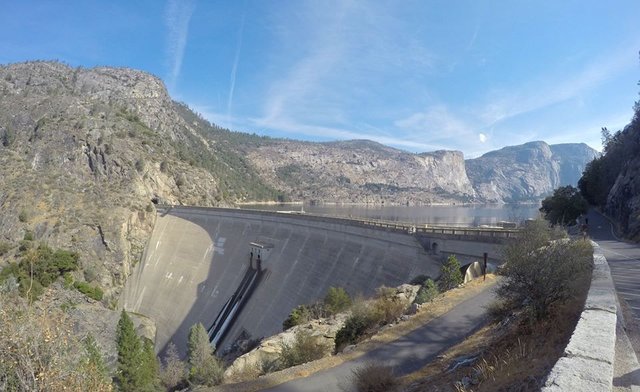 The O'Shaughnessy Dam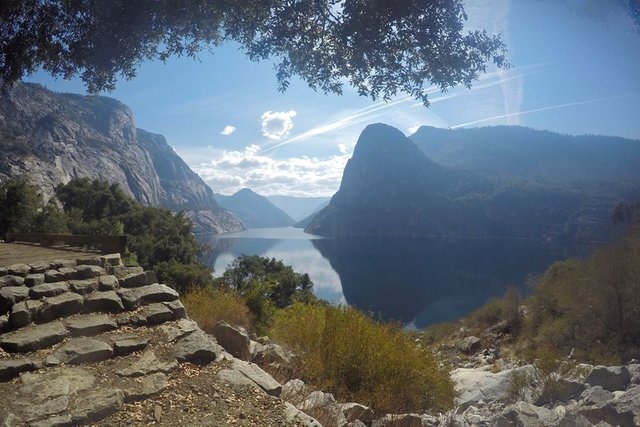 Hiking around Hetch Hetchy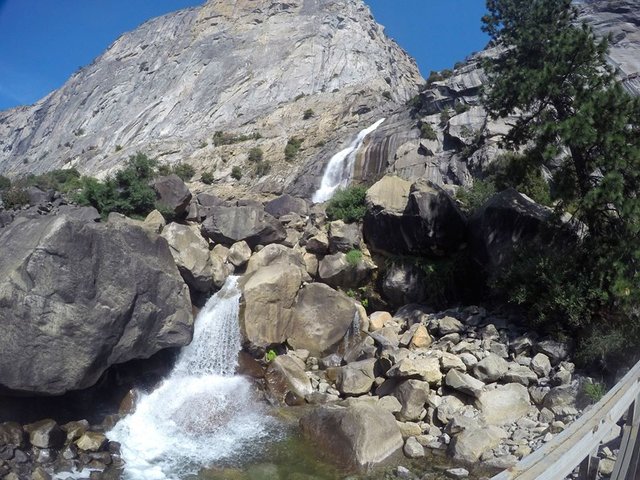 Wapama falls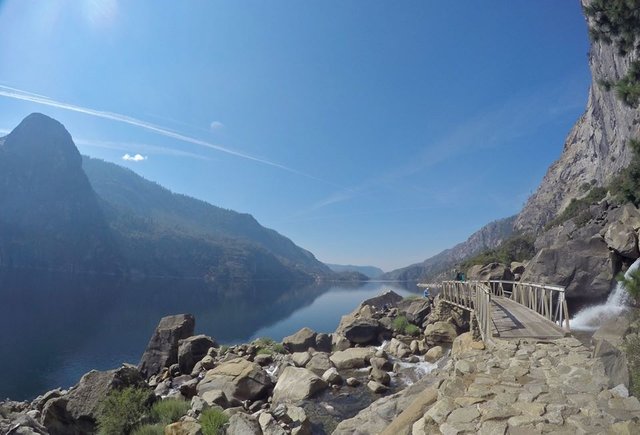 The bridge below Wapama falls
Since we were starting at lower elevations meant it was hot, and the bugs were out in full force. But we pushed through it and made our way up to Rancheria creek. We found a spot to setup camp there. Luckily the bugs weren't as bad at camp. After camp was setup we hiked around the area and checked out all the awesome waterfalls and swimming holes. On the trail just above camp there was a great 25 foot high wooden bridge crossing the creek over a beautiful deep pool. So of course I had to jump off it a few times! Then we made our way back to camp and had some dinner. And we got a gorgeous sunset before heading to bed.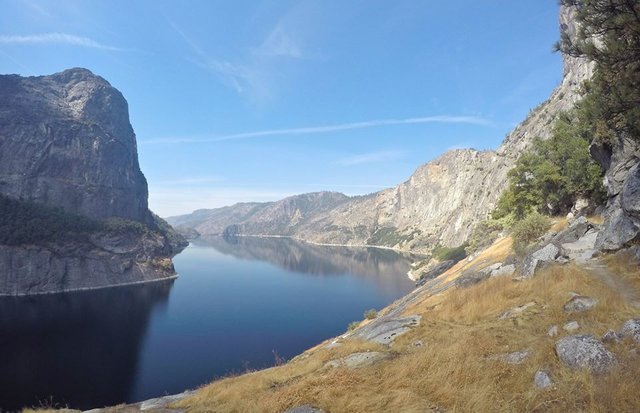 Hetch Hetchy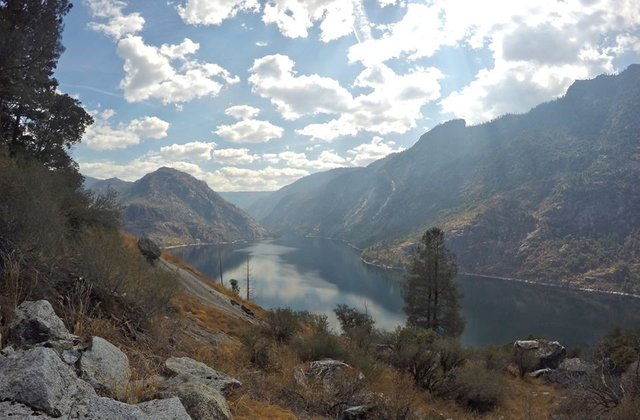 Hetch Hetchy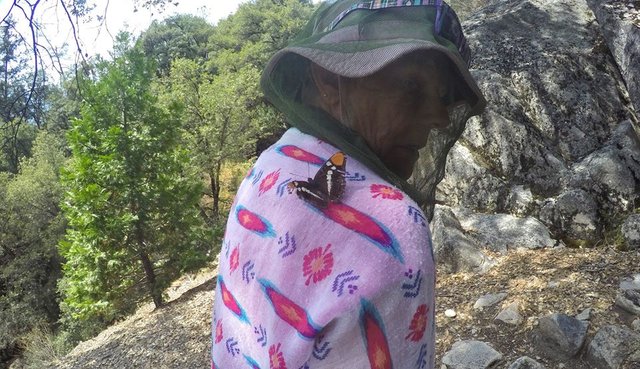 A butterfly landed on my moms shoulder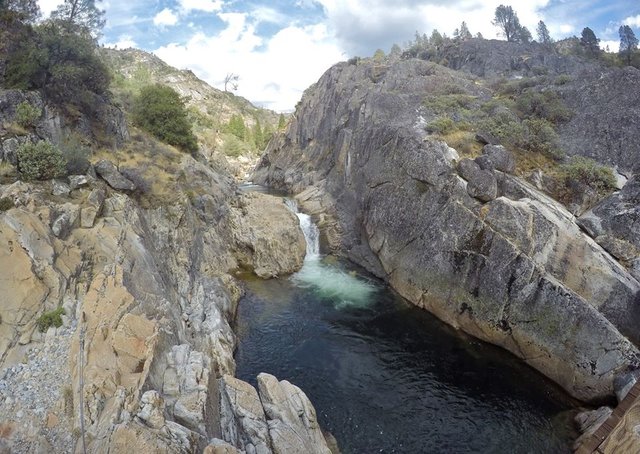 Swimming hole in Rancheria creek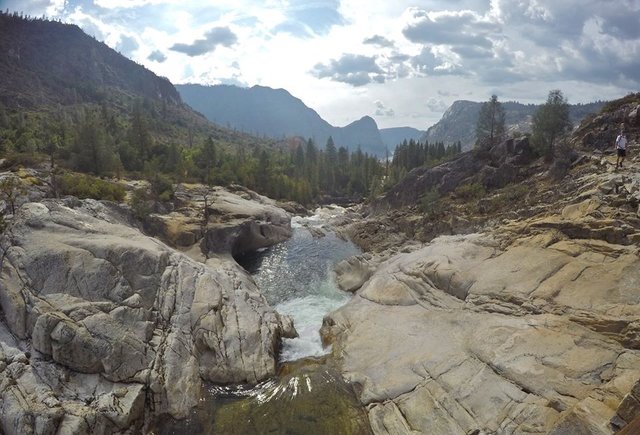 Rancheria creek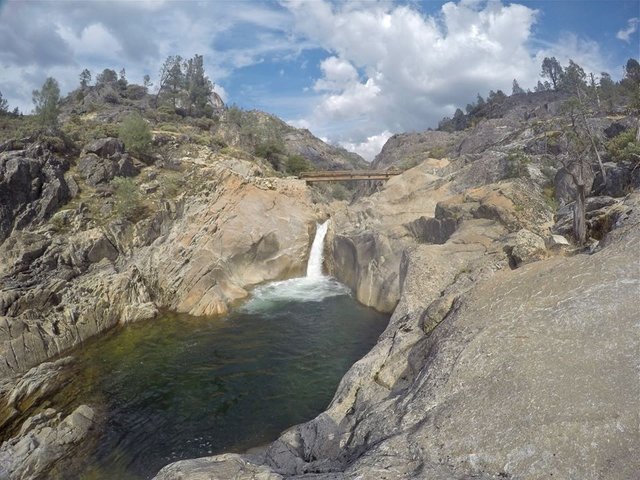 Rancheria creek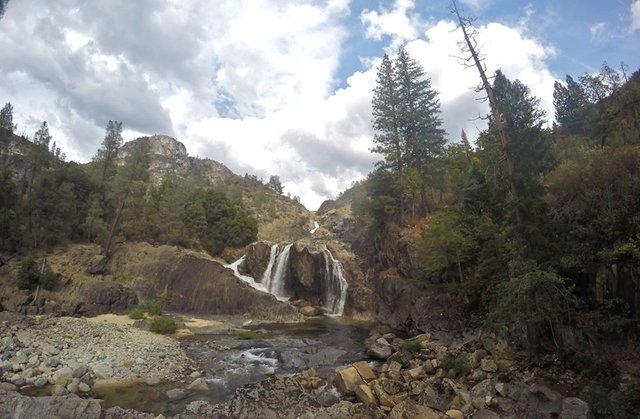 Waterfalls on Rancheria creek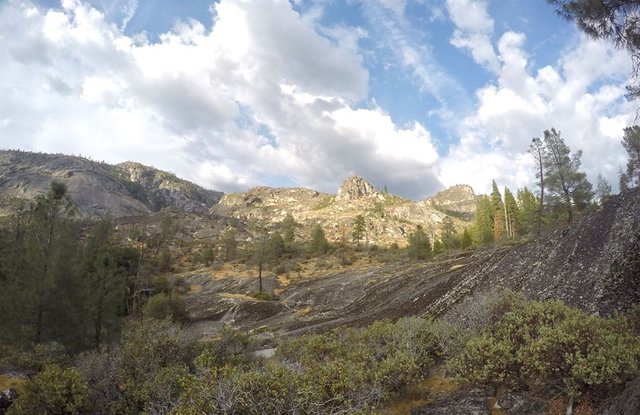 Views from camp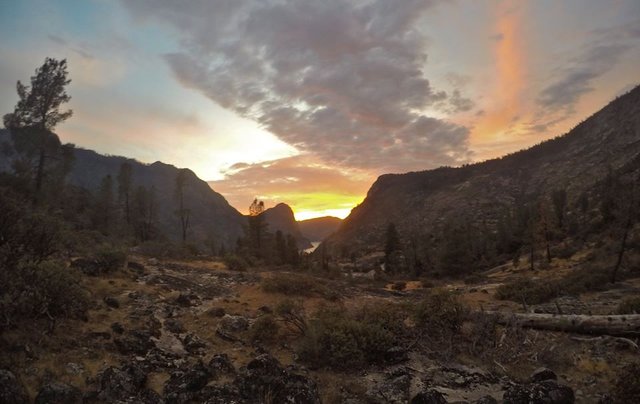 Sunset from camp
The next day we left Rancheria creek and made some steep switchbacks up the northeast side of LeConte point. Once up the switchbacks I left the trail for a side trip to go climb the point! It took a bit of route finding to find an easy route up, but I managed just fine. From the point there were excellent views overlooking Hetch Hetchy. I lingered there for awhile just taking it all in. The views really just left me in awe. But as we had a long day I had to keep moving and make my way back down to the trail.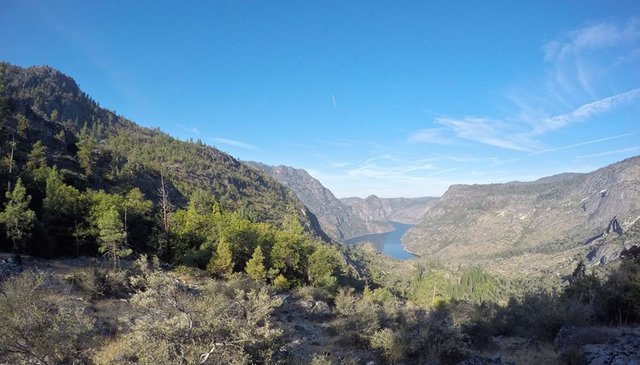 Views from the trail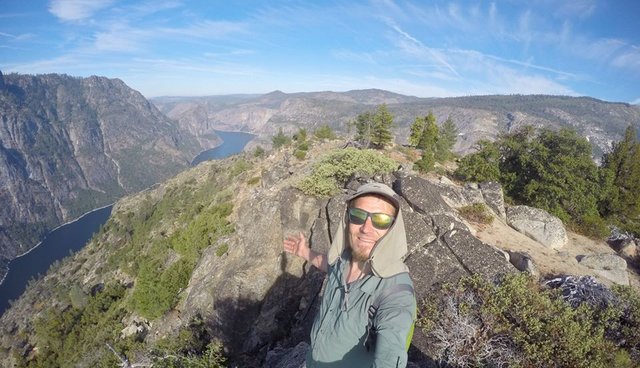 Selfie on top of LeConte point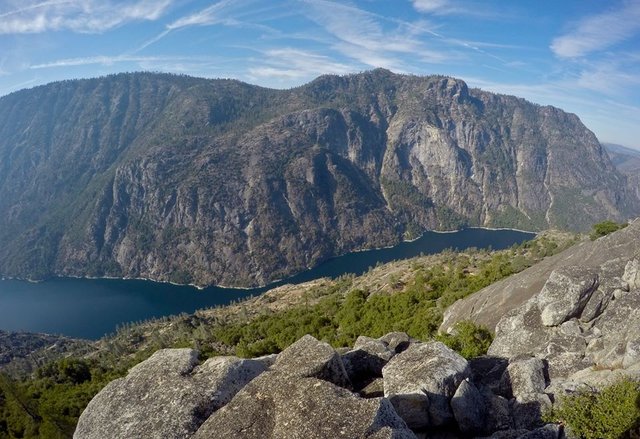 Views of Hetch Hetchy from LeConte point
Once back on the trail I began the big long climb over Rancheria mountain. Rancheria mountain was pretty lush with lots of small creeks and meadows. Which is beautiful, but also made for quite a bit of bushwhacking and trying to follow an overgrown trail. At one of the meadows I caught up with mom, who had kept hiking up the trail while I climbed out to LeConte point. We took a short break and then continued climbing over the mountain. Once over the top we started dropping back down. All the way down into Pleasant valley. In the valley we stopped for a short break at a nice little waterfall, but after our break we couldn't find where the trail went!? It took a little searching, but eventually we found it. We were getting pretty tired at this point, but we still made one more steep climb up to Table lake. We made our way up to the lake and found a spot to setup camp for our second night. As the sun set I mustered up my last bit of energy, grabbed my pole and headed out to the lake to have a little fun trout fishing!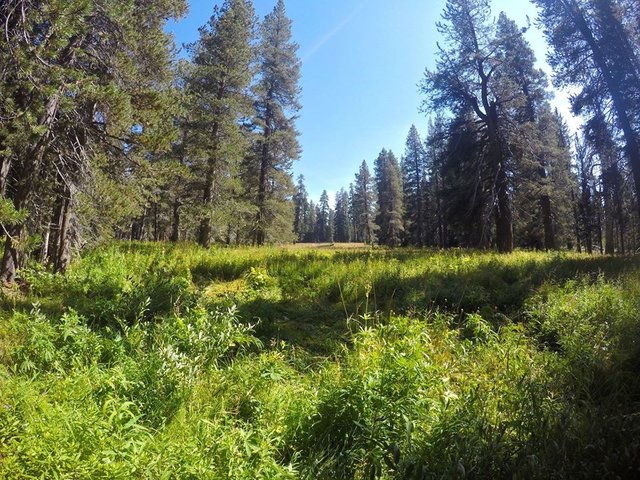 Meadows on Rancheria mountain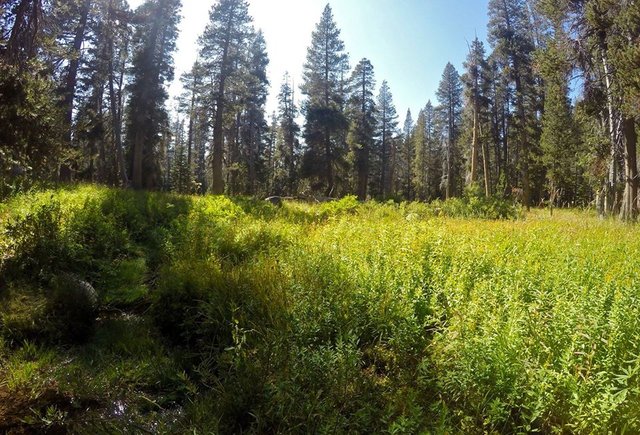 More meadows on Rancheria mountain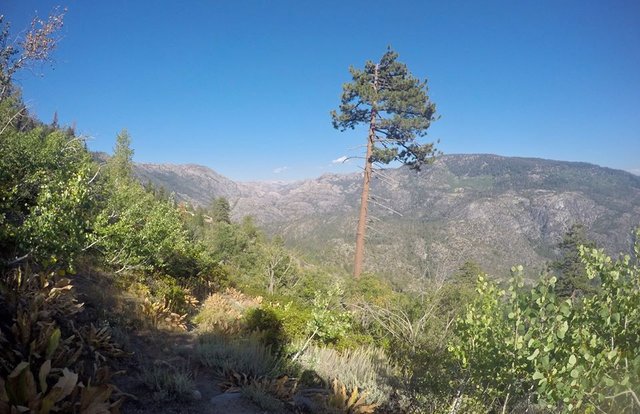 Descending into Pleasant valley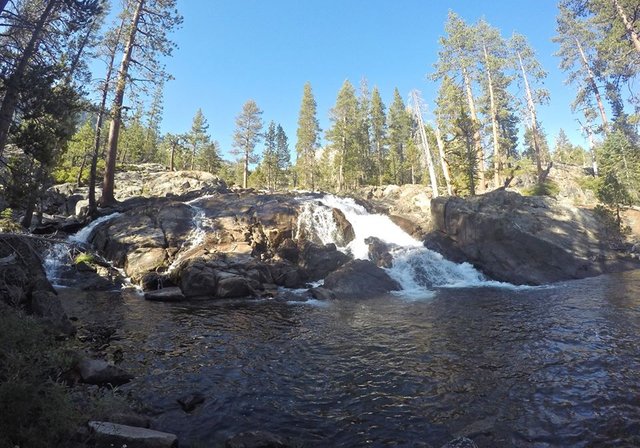 Waterfall in Pleasant valley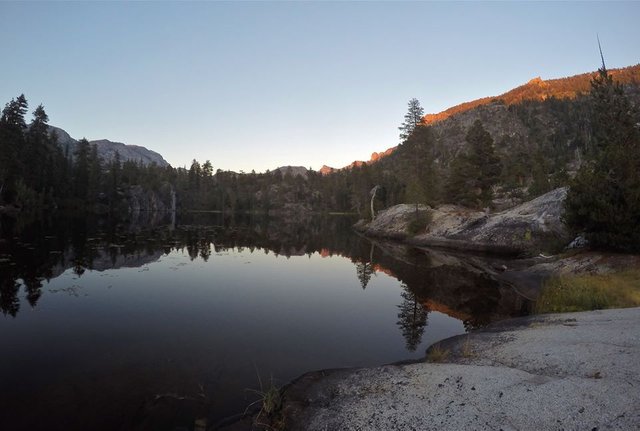 Table lake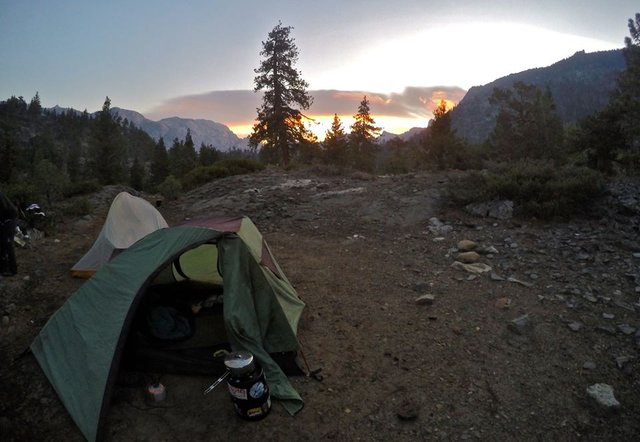 Sunset from camp
On day 3 we got up and packed up our camp at Table lake. From there we left Pleasant valley and climbed around a ridge into Rodgers canyon and we hiked up Rodgers canyon all the way up to Neille lake and to Rodgers lake. Rodgers lake was really beautiful and we found a great spot to setup our next camp.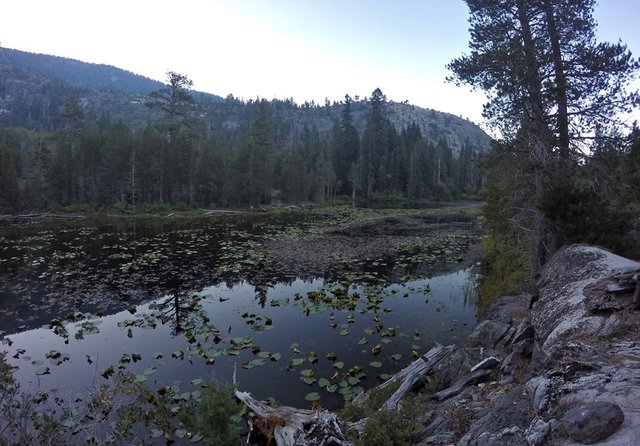 Morning at Table lake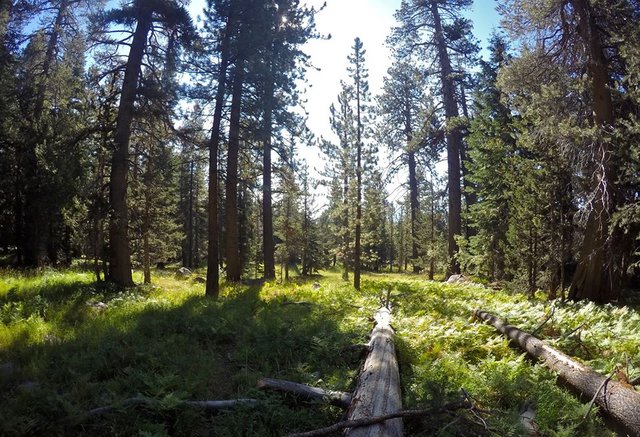 Meadows above Table lake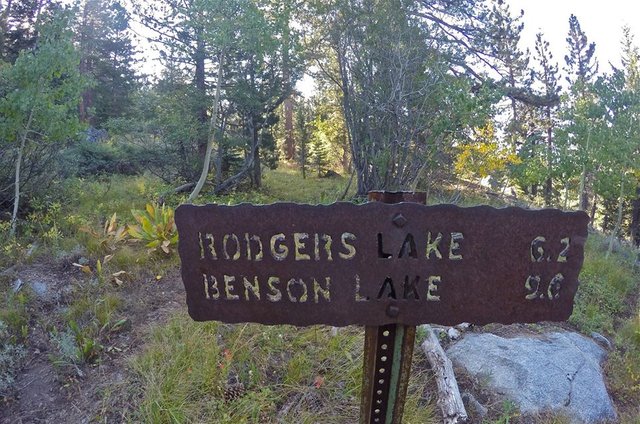 Trail junction to Rodgers canyon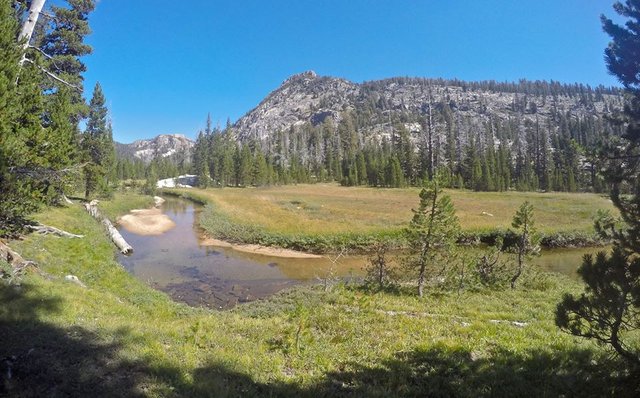 Rodgers canyon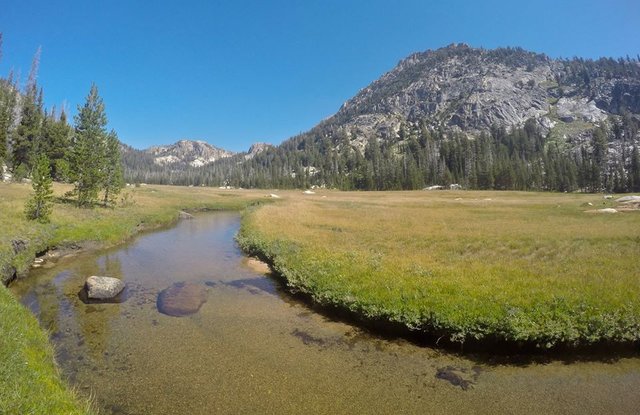 Rodgers canyon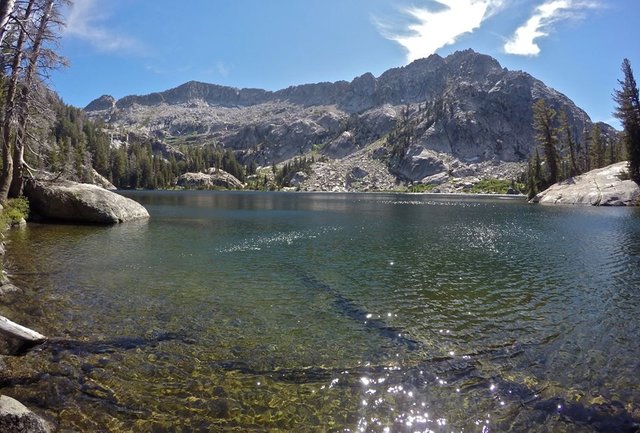 Nielle lake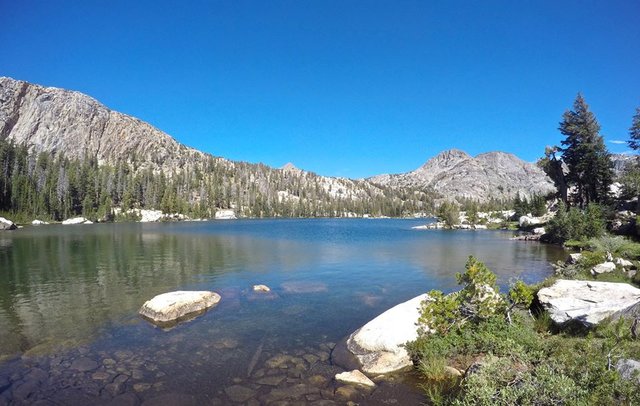 Rodgers lake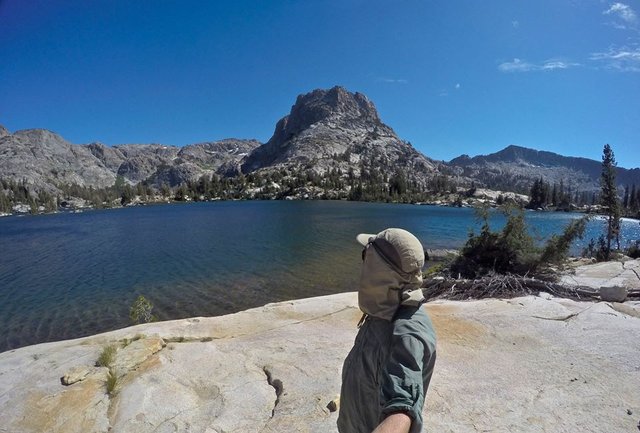 Me at Rodgers lake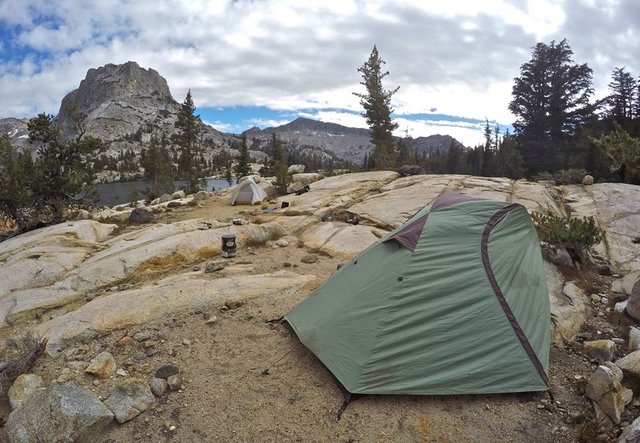 Our camp at Rodgers lake
Once camp was setup I headed out to climb Volunteer peak (10,481')! I started hiking around the lake and ran into a couple fisherman who were also camping at the lake. After chatting with them for a minute I left the lake and started my climb up to the summit. The approach was easy class 1 and the climb was an easy class 2 talus scramble. The views were absolutely incredible though!! Spectacular 360 views of northern Yosemite! I had been thinking about trying to climb Pettit peak as well, but it was already late in the day, and Volunteer peak was just so awesome, so I opted for a little extra summit time there before heading back down to our camp at Rodgers lake for the third night of the trip.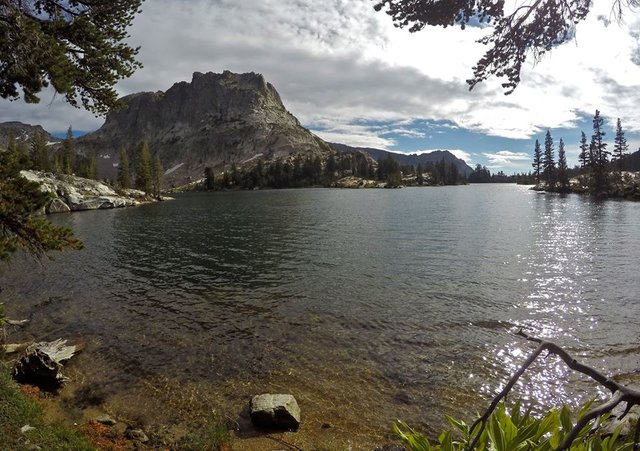 Hiking around Rodgers lake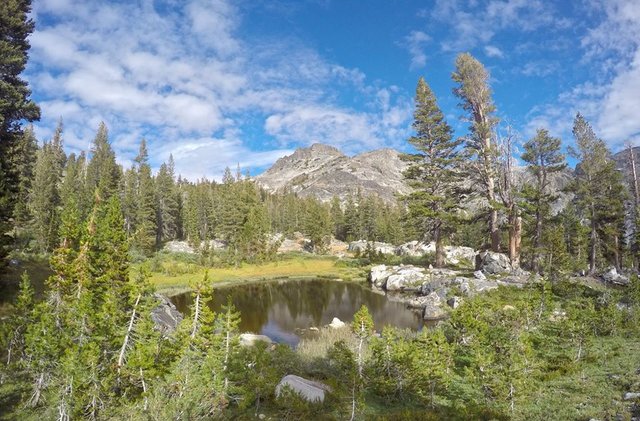 A small unnamed lake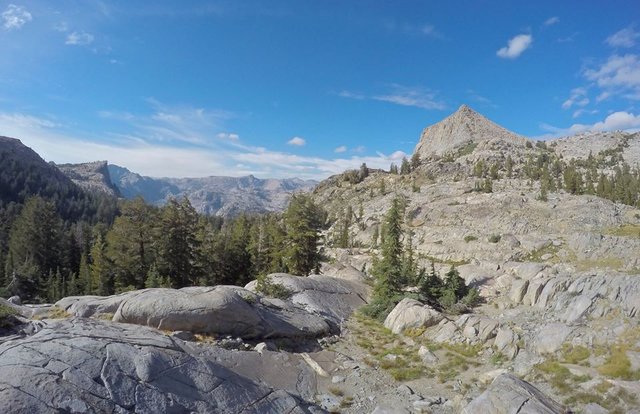 Approaching Volunteer peak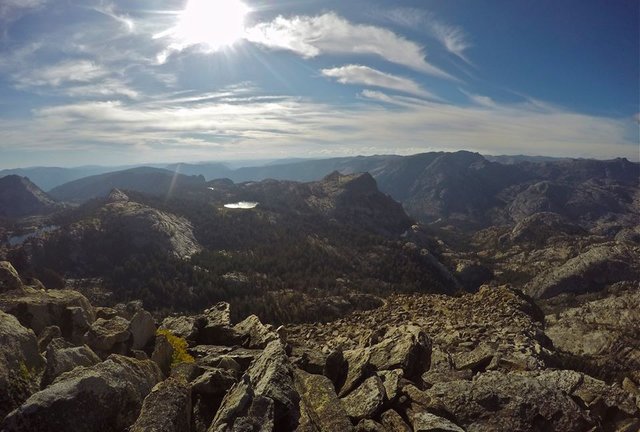 Views from Volunteer peak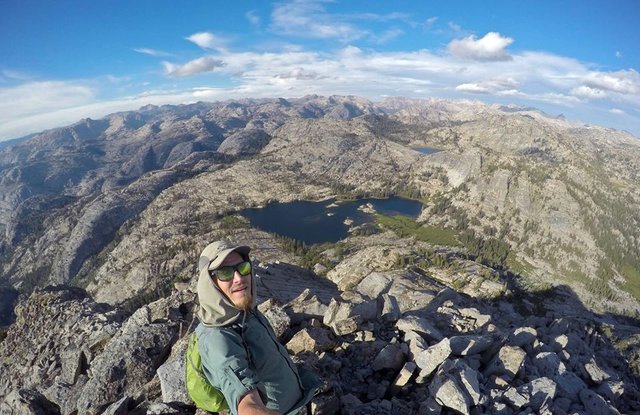 Selfie on the top of Volunteer peak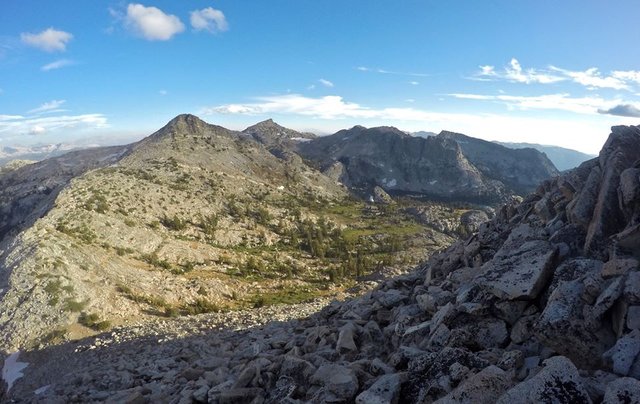 Descending from Volunteer peak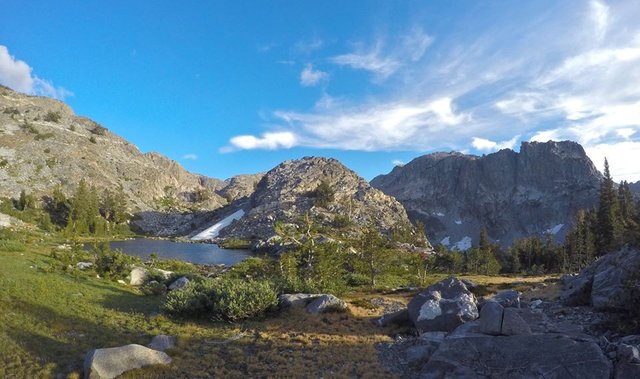 Making my way back to camp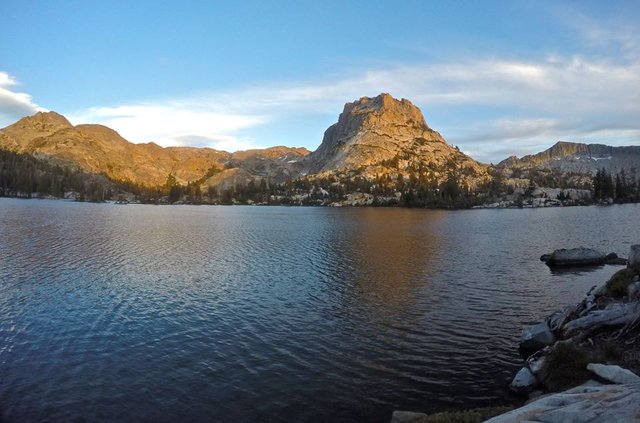 Evening at Rodgers lake
The next morning mom and I left Rodgers lake and dropped down to the PCT(Pacific Crest Trail) and followed it around Volunteer peak to beautiful Smedburg lake. We stopped for a quick break at the lake and I tried a little trout fishing. We saw several PCT thru hikers as well as a large buck. Which was just the first of many deer sightings for the day. From the lake we followed the PCT up to Benson pass(10,140'). Which turned out to be much more of a climb than I had expected.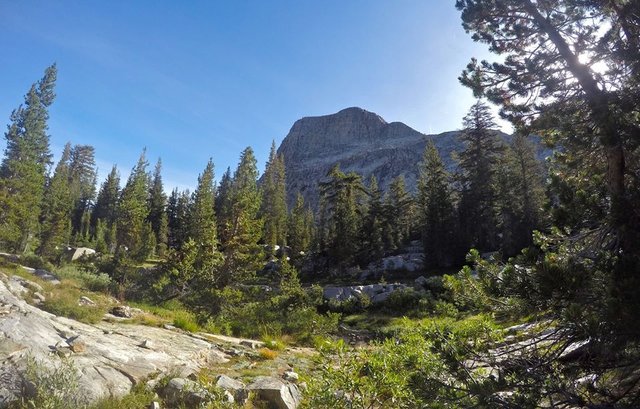 Hiking around Volunteer peak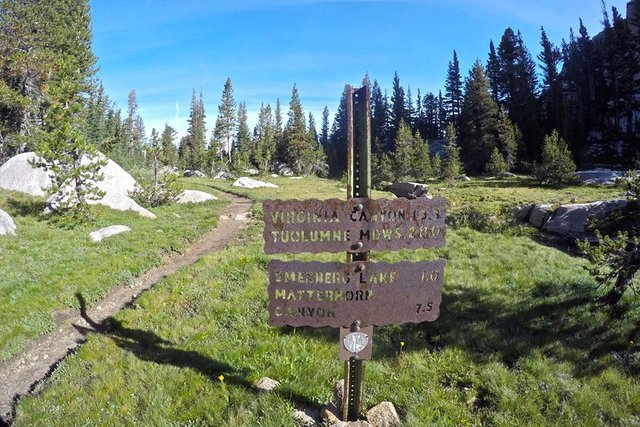 Trail junction with the PCT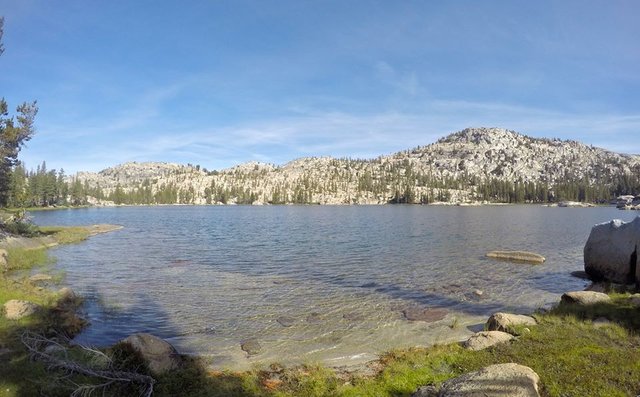 Smedburg lake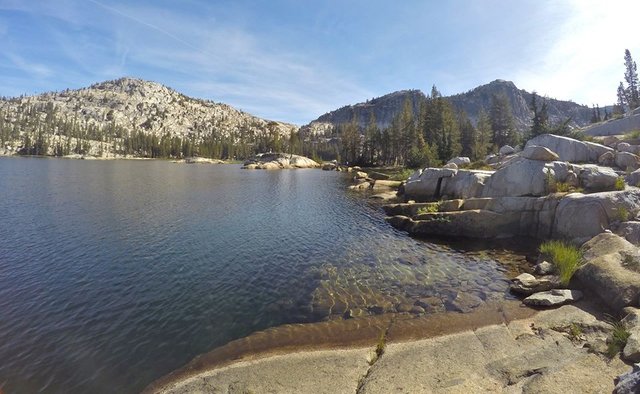 Smedburg lake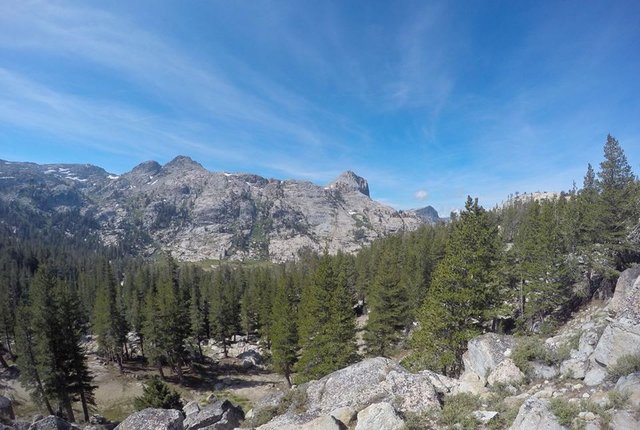 Views from Benson pass

Benson pass
At the pass we met two other backpackers and we talked with them for a bit.. turned out they were fans of my Youtube channel! That was so cool to get to meet them way out there in the backcountry. From the pass we dropped down to Wilson creek (where we saw even more deer) and followed it to it's confluence with Matterhorn canyon! In Matterhorn canyon we left the PCT and continued hiking up the massive canyon for quite a ways. It just got more and more amazing as we went. After hiking more than 15 miles for the day we were getting pretty exhausted so eventually we found a real nice spot in the canyon to setup camp just south of Finger peaks and the Sawtooth ridge!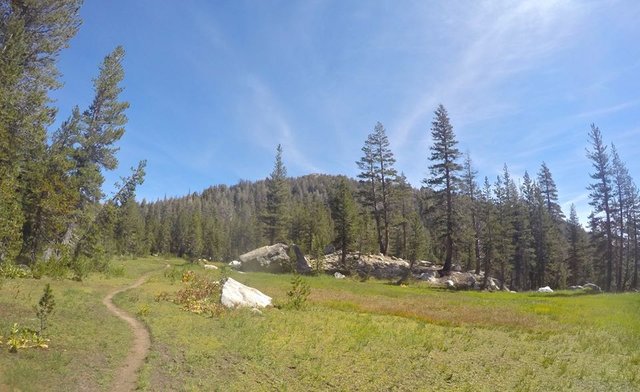 Meadows near Wilson creek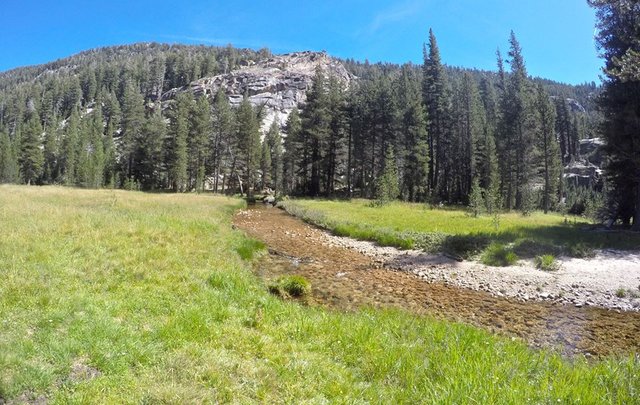 Matterhorn canyon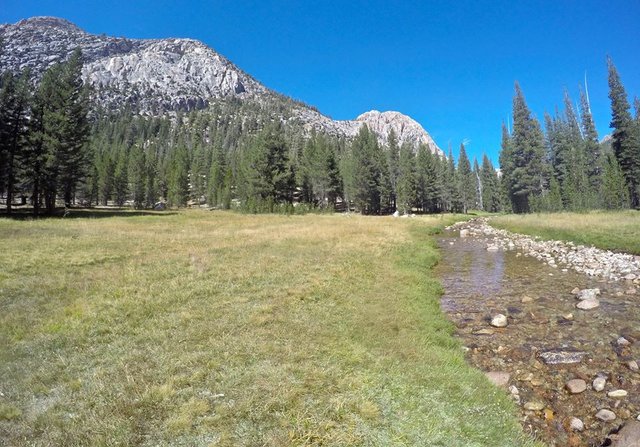 Matterhorn canyon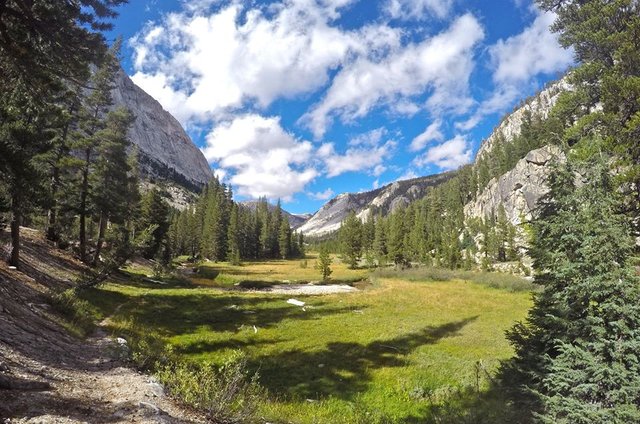 Matterhorn canyon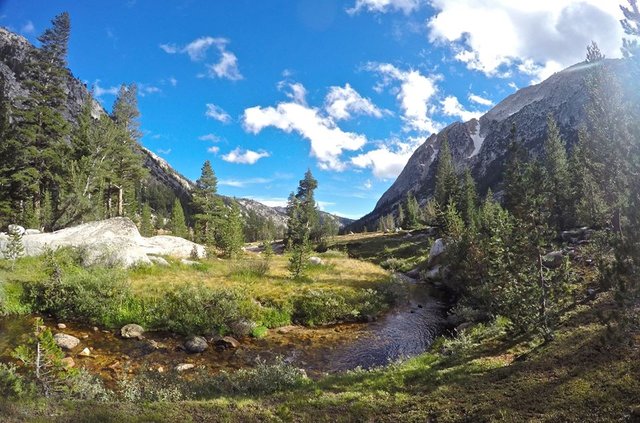 Matterhorn canyon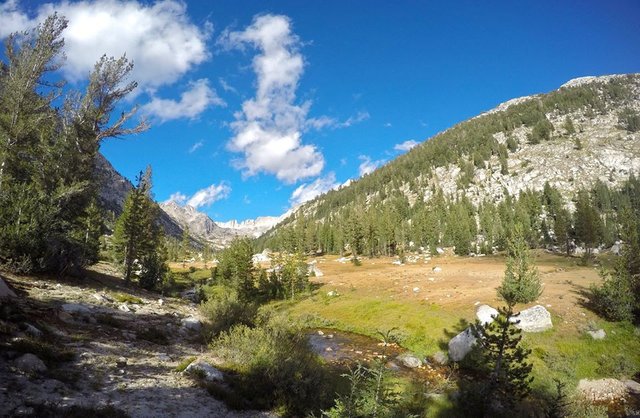 Matterhorn canyon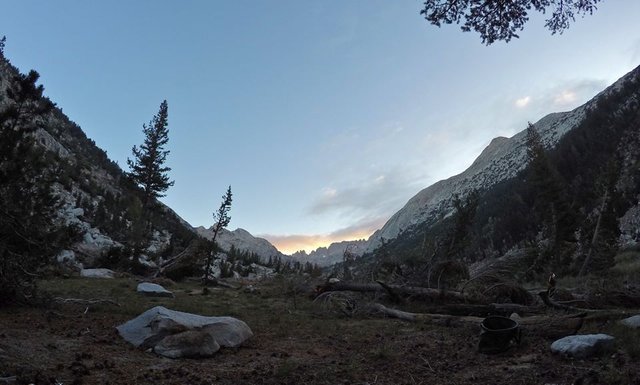 Evening time in Matterhorn canyon
So for Day 5 we had a big day planned including two cross country passes, and unfortunately a storm was rolling in. Mom and I packed up our camp in Matterhorn canyon and hiked up to the head of the canyon. From there we started our climb up our fist pass of the day, Matterhorn pass. We were able to find a good route up the pass and had just a little bit of class 3 climbing near the top. On the east side of the pass there was supposed to be a chute to go down. It took us awhile to find it but we finally did and made our way down it into Spiller canyon. My original plan had been to climb Matterhorn peak from there, but with the heavy winds and an impending storm coming in we decided to skip the peak. We found a spot by Spiller creek where we had some cover from the wind and we took a break and had our lunch there.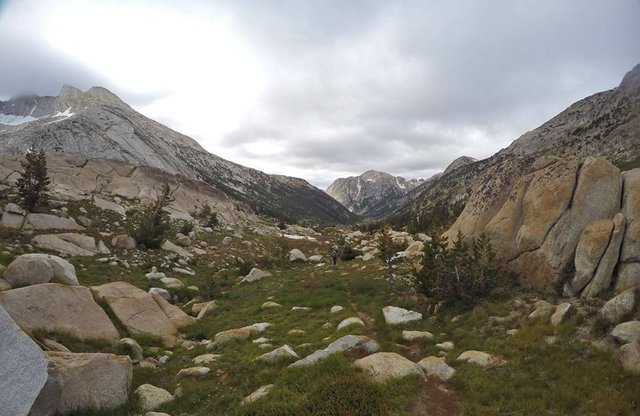 Upper Matterhorn canyon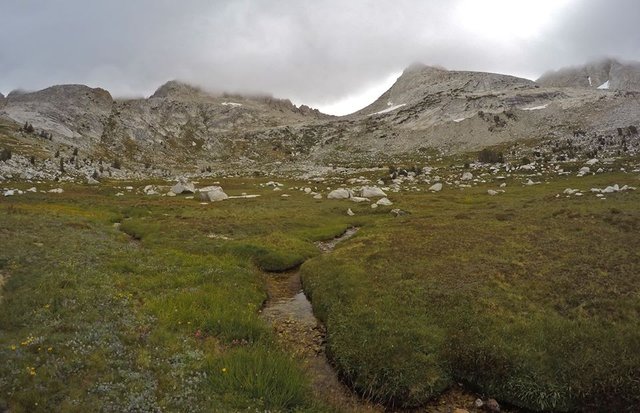 At the head of Matterhorn canyon

Watermelon snow on the way up Matterhorn pass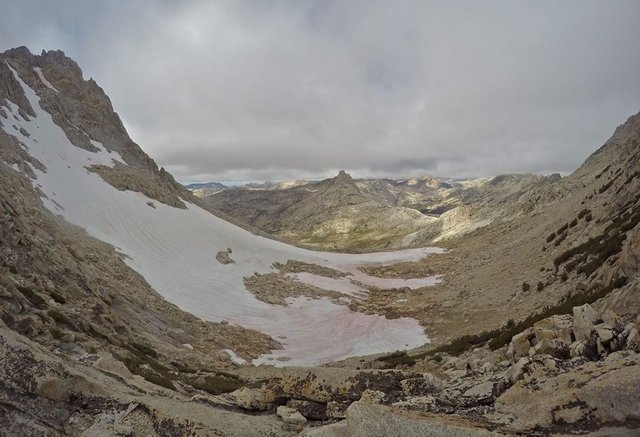 Views from Matterhorn pass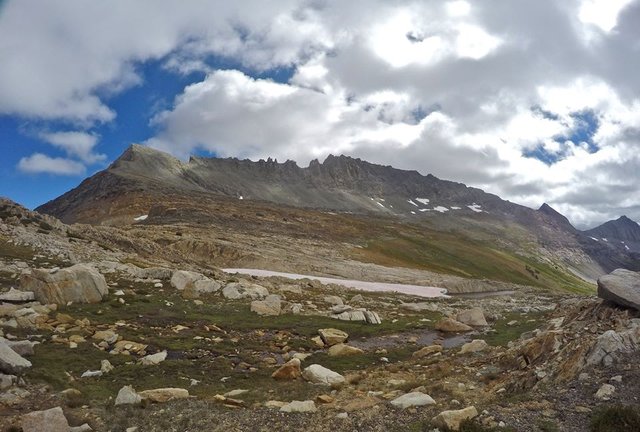 Dropping into Spiller canyon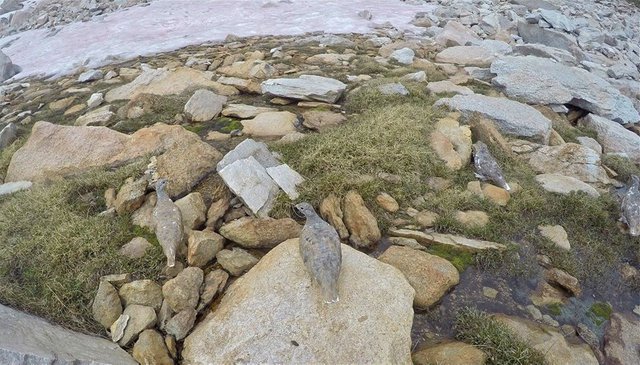 Grouse by Spiller creek
From there we started our climb up the second pass for the day, Twin Peaks Pass. This pass was more of a long gradual climb but the rock was really loose and slick making it quite treacherous. We made our way up to the pass and the wind was really howling!! We could barely stand up. So we dropped off the east side of the pass to get out of the wind and scope out our route to get down. This included a bunch more of that loose rock as well as crossing over a large field of icy snow. We made it fine and arrived at the small lake I had originally planned for us to camp at, but when we got there we searched all around the lake and discovered there was nowhere to camp that wasn't on jagged boulders. So although we were tired, we decided to press on and get all the way down into Virginia canyon.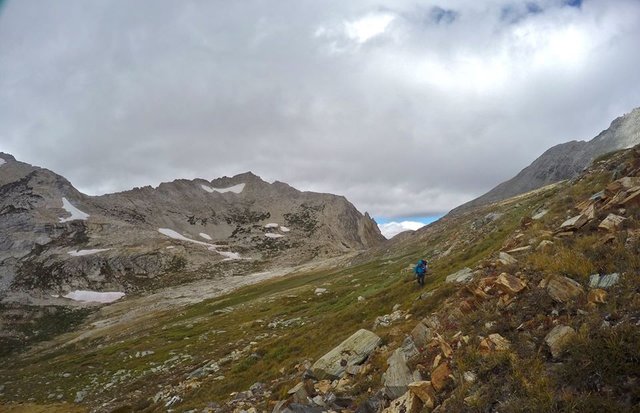 Climbing Twin Peaks pass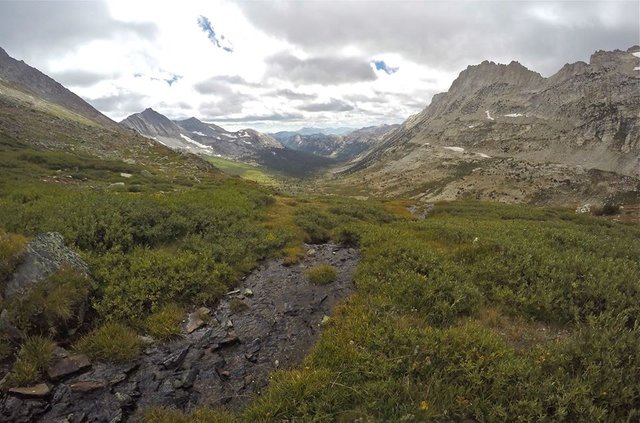 Looking down Spiller canyon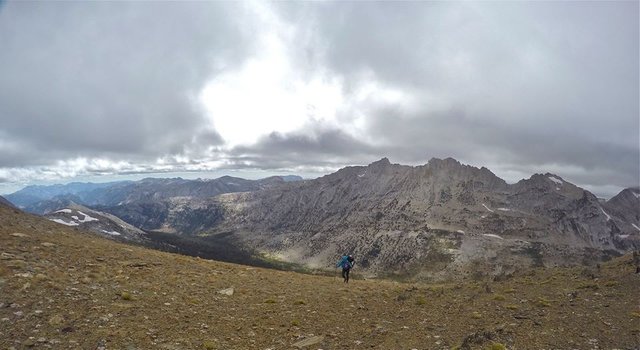 Arriving at Twin Peaks pass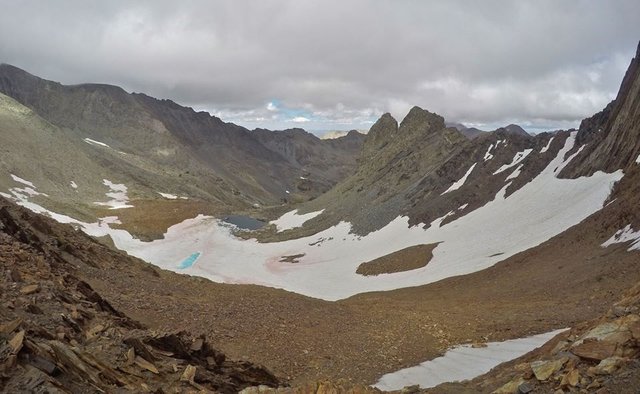 Views from Twin Peaks pass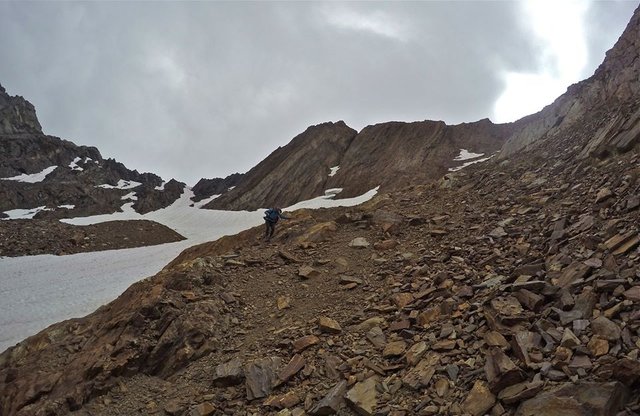 Descending from the pass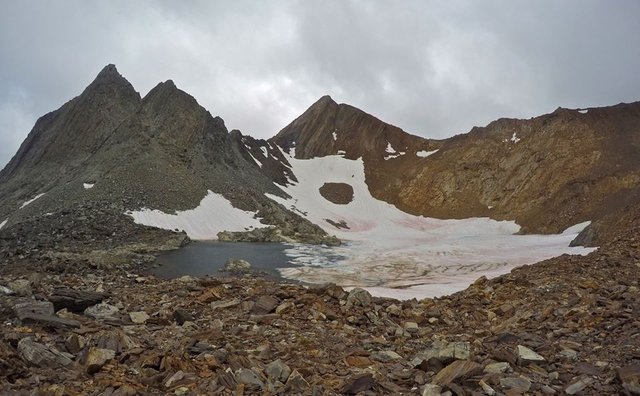 The lake we decided not to camp at
To get down the next section we had to bypass a set of waterfalls. The route description in my book said "stay north of the creek and descend the slabs". I thought class 2 maybe a little class 3... well... turns out there was some really exposed class 4! Yay! We handled it just fine, but already being exhausted from climbing two passes in the wind didn't really make it any easier. From the bottom of the falls we dropped into the canyon and found a nice spot to setup camp just as the rain was coming in. We had some dinner and fell asleep to the sound of raindrops on our tents.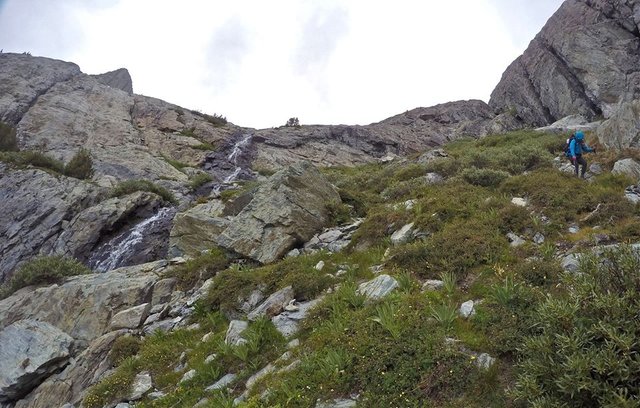 Making our way around the waterfalls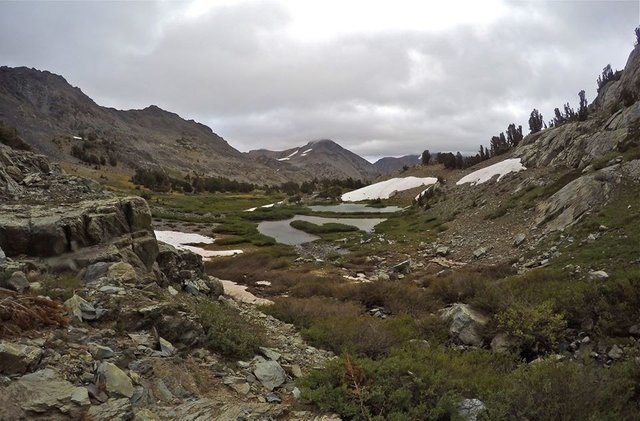 Descending into Virginia canyon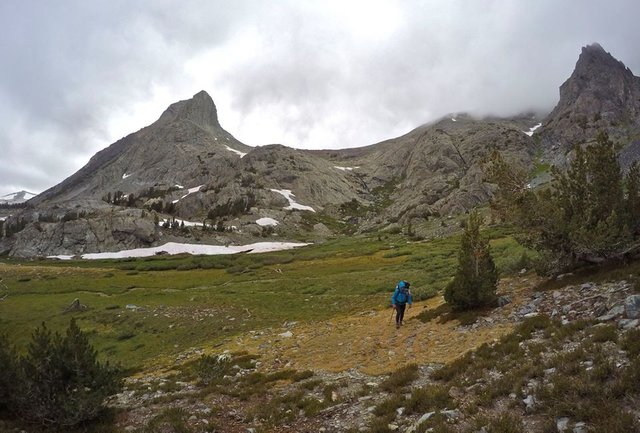 In Virginia canyon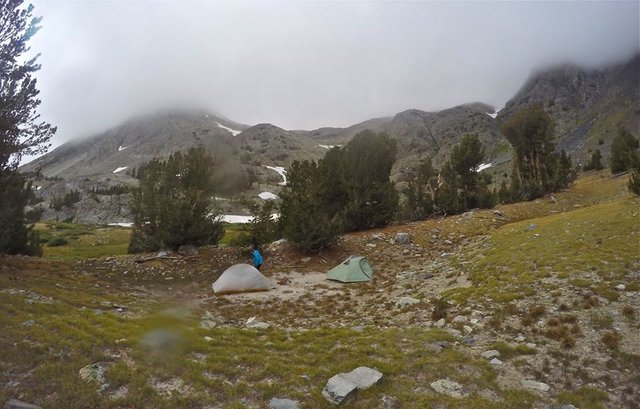 Camp #5
We went to bed expecting to get a little rain that night. But at some point during the night, I woke up to realize that we were getting covered in snow!! We woke up the next morning to almost a foot of fresh powder all around us!! We packed up camp and headed down canyon through the snow. It was an absolutely beautiful morning and the fresh snow really made everything very picturesque. We continued down the canyon eventually meeting with the PCT again where we saw more PCT thru hikers. From there we followed the PCT southbound and climbed up passed Elbow Hill to the big meadow at the top of Cold canyon. We found a spot in the trees on the west side of the meadow where we made our final camp of the trip.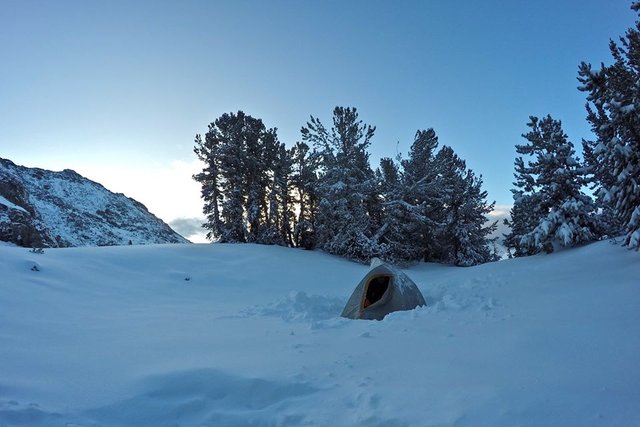 Morning at camp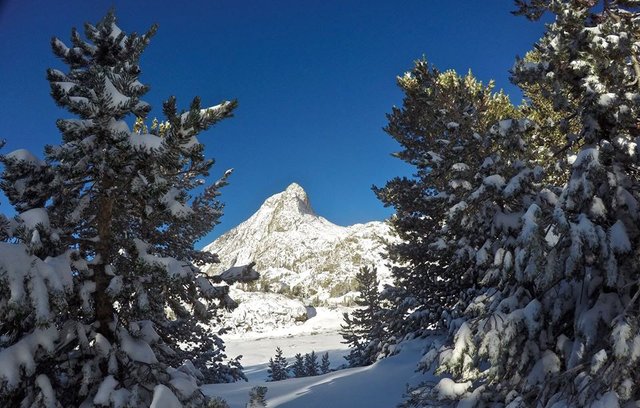 Views from camp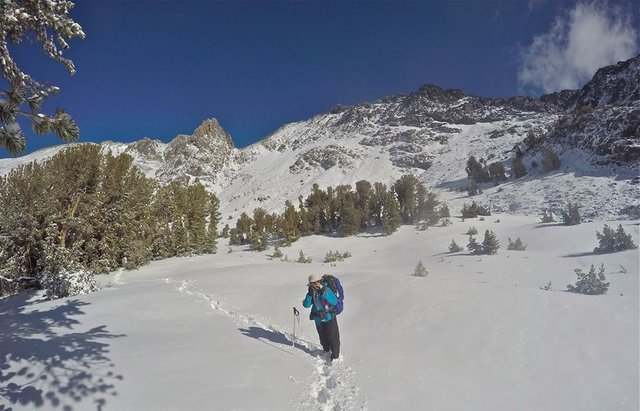 Taking a picture of mom taking a picture of me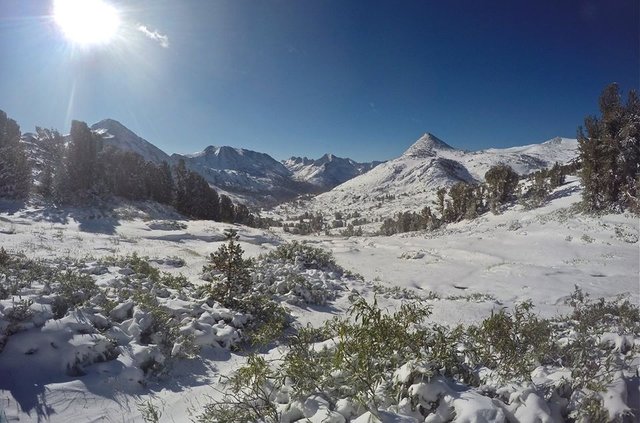 Virginia canyon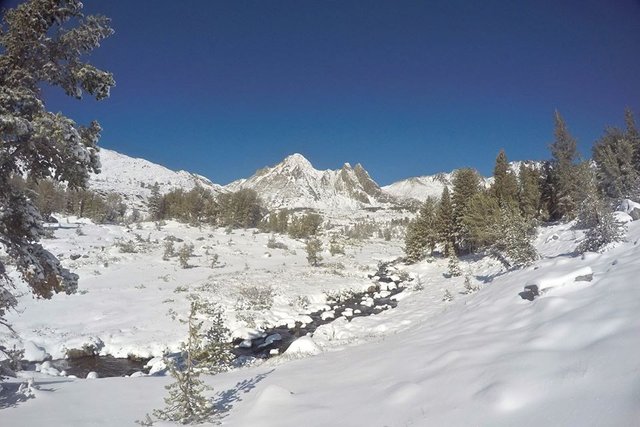 Return creek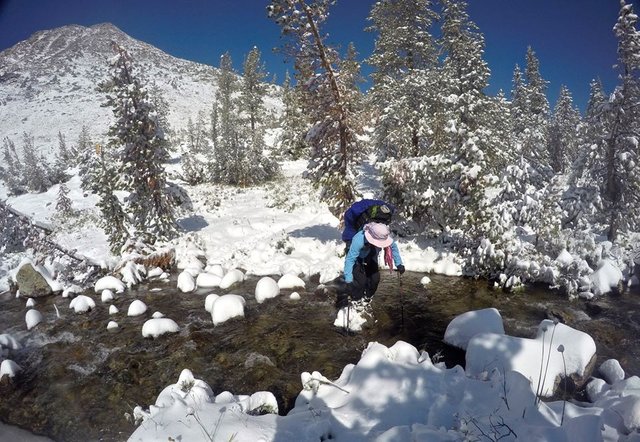 Crossing return creek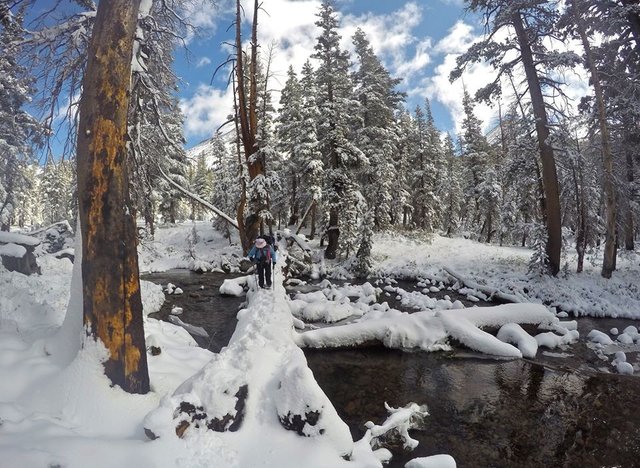 Log crossing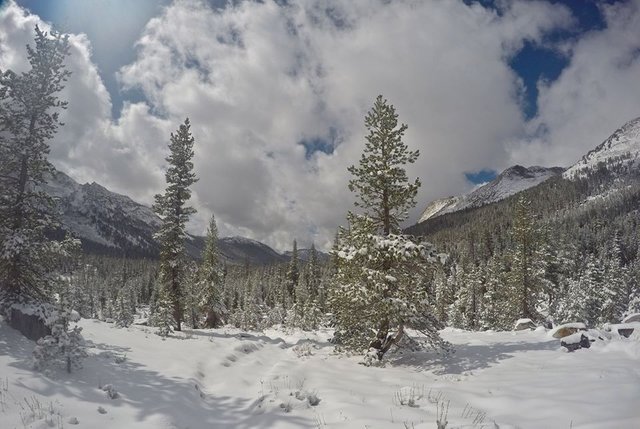 Virginia canyon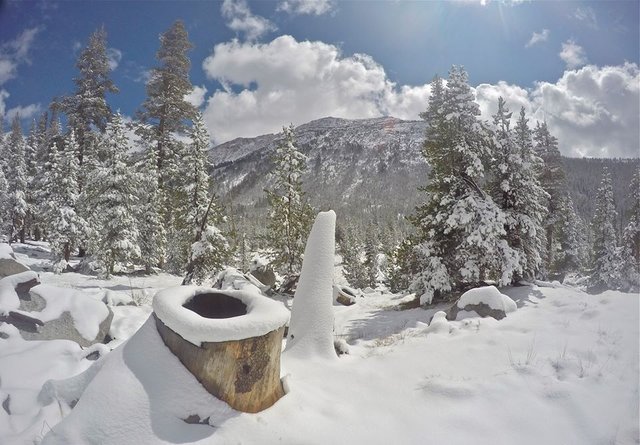 Virginia canyon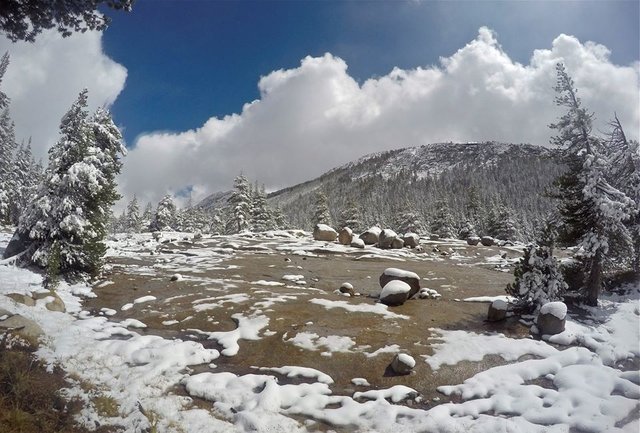 Virginia canyon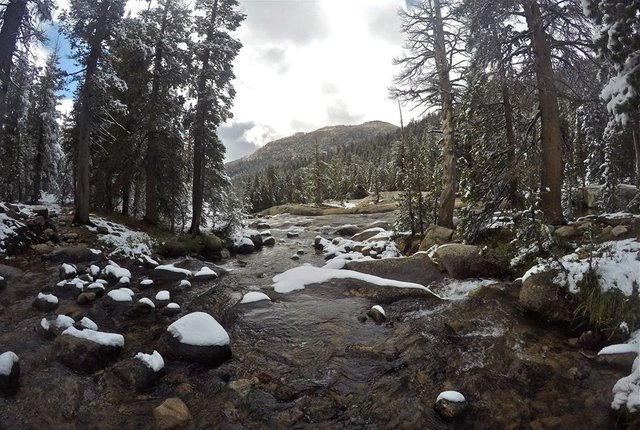 Return creek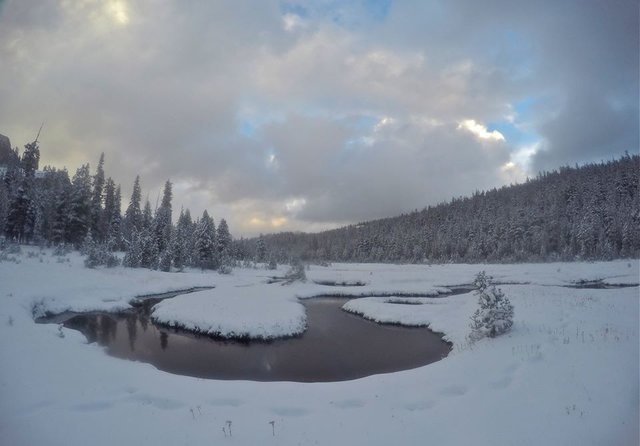 Cold meadow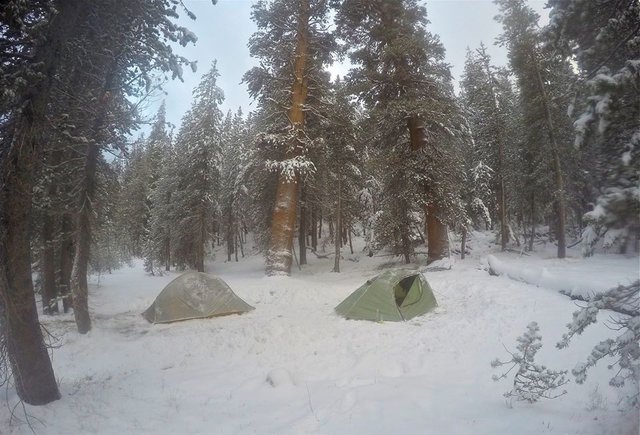 Our final camp of the trip
The next morning mom and I woke up after a freezing cold night at Cold meadow. (Go figure with that name. lol). Then we packed up camp and headed down Cold Canyon on the PCT to the Glen Aulin trail camp. From there we crossed the Tuolumne river on the bridge and headed up river passed White Cascade and Tuolumne falls. We followed the PCT up passed Dingley creek and then at Delaney creek we left PCT and headed towards Soda Springs, Lembert Dome and our final destination... Tuolumne meadows!!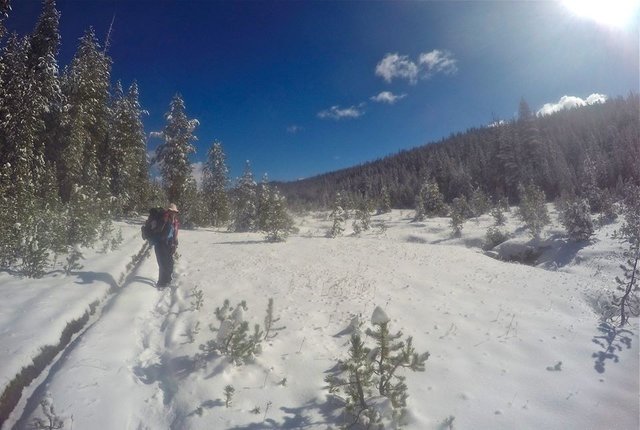 In cold canyon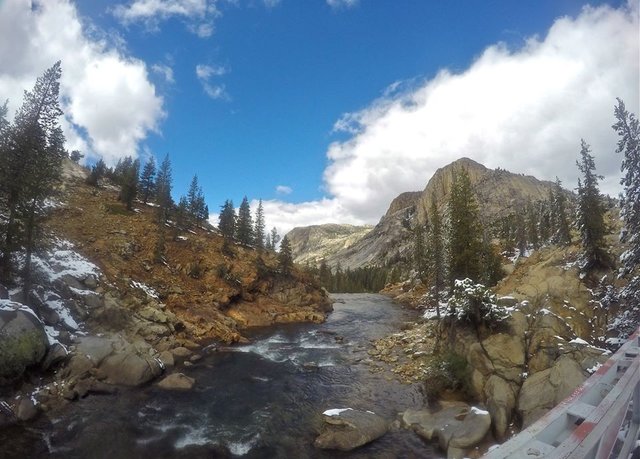 Crossing the Tuolumne river on the bridge at Glen Aulin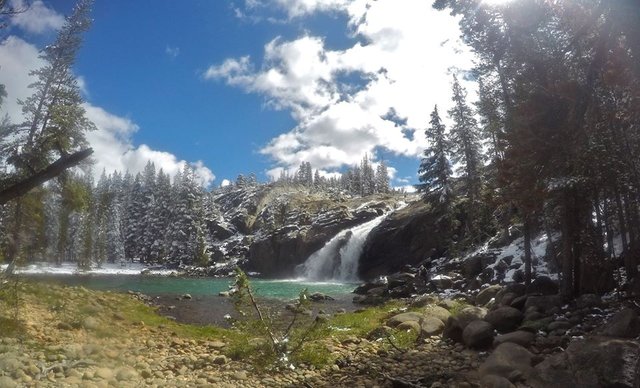 White cascade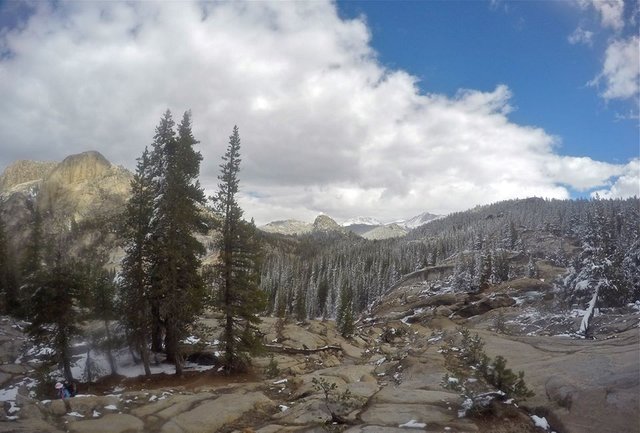 Views from the trail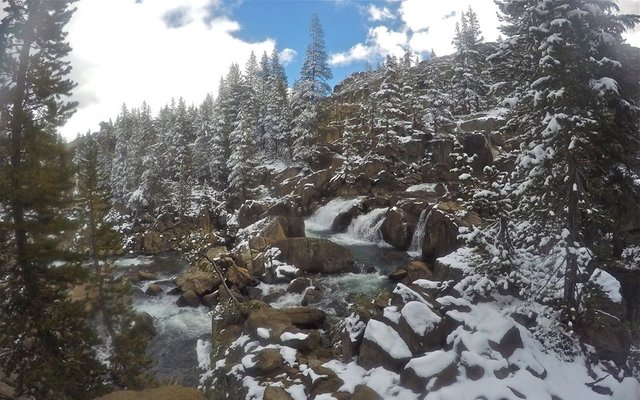 Tuolumne river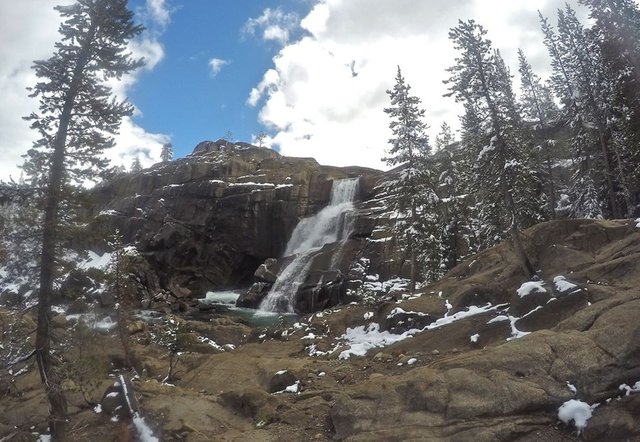 Tuolumne falls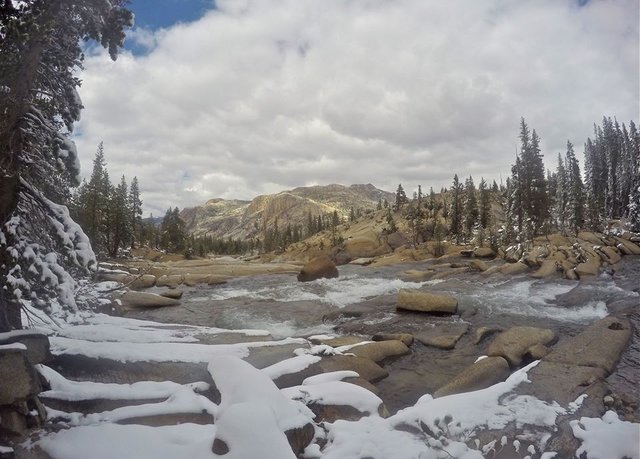 Tuolumne river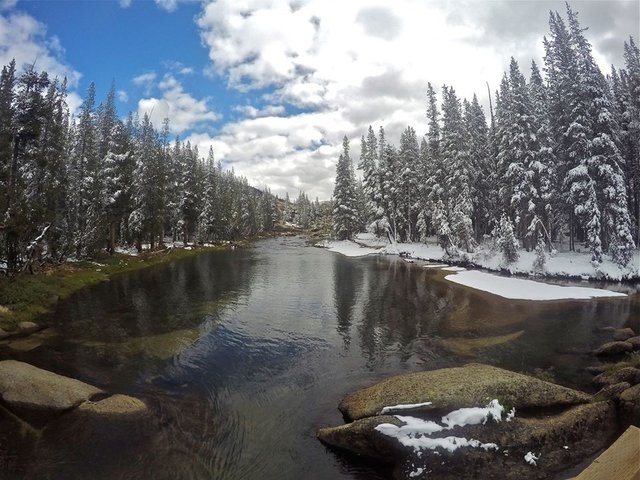 Tuolumne river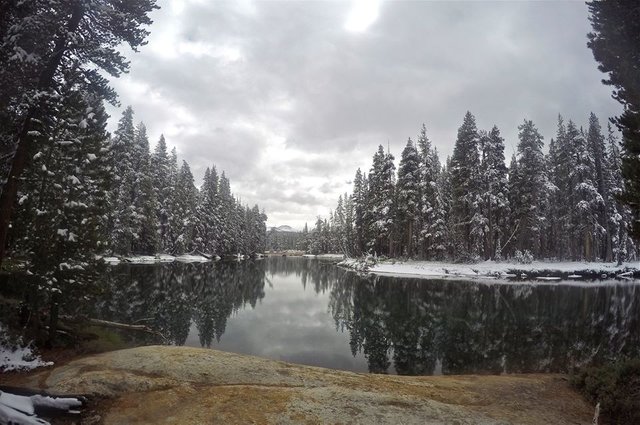 Tuolumne river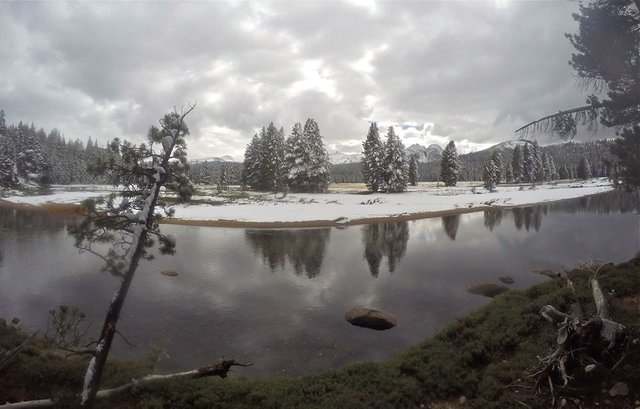 Tuolumne river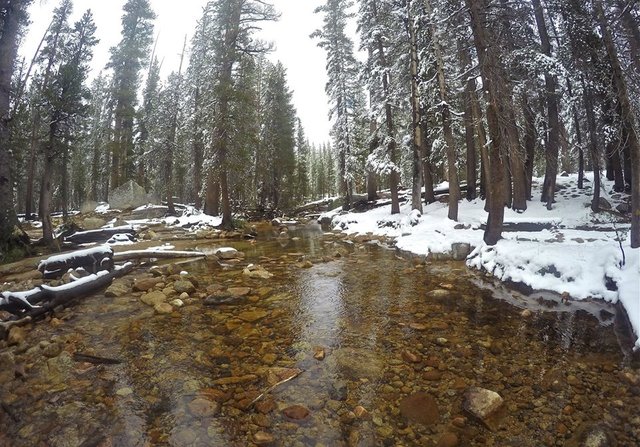 Delaney creek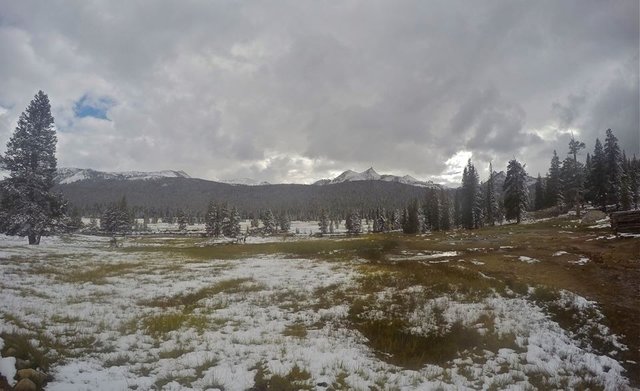 Tuolumne meadows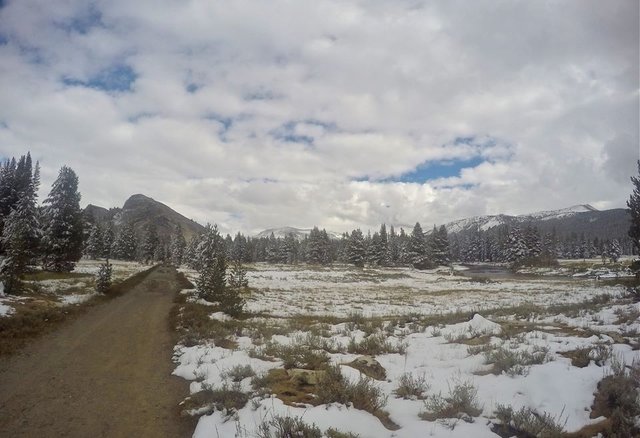 Tuolumne meadows
Our original plan had been to resupply and hike back to Hetch Hetchy, but with the unexpected storm we were not really prepared for it. So we decided to cut it short and the next day we stuck out our thumbs and hitch hiked back down to the Hetch Hetchy reservoir. I was a bit upset that we didn't get to finish the full hike, but what we did get to do was definitely incredible. It was a trip I will never forget!!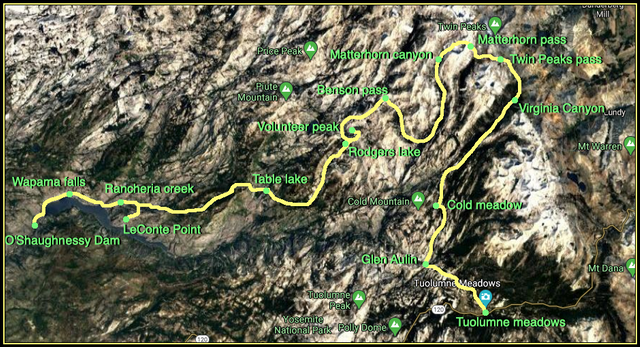 Map (click to enlarge)
Until next time...
I hope you have enjoyed this glimpse into
My California!!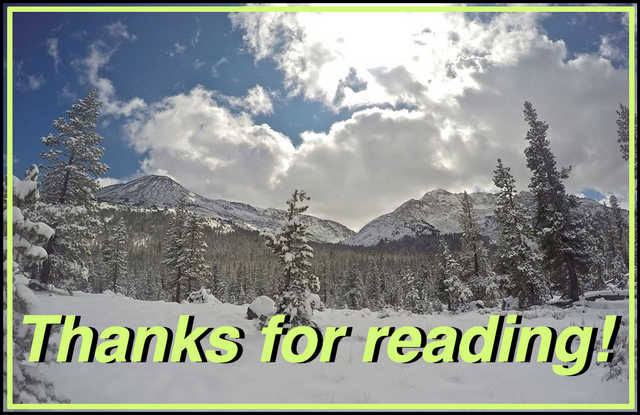 all photos by @derekrichardson

https://www.californiamountainadventure.com
Contact me on Discord


#SoCalHive is building and supporting the Hive Blockchain community in Southern California. If you are from SoCal and are into creating quality content here on Hive, we'd love for you to follow us @theSoCalHive and join our group on Discord>



Animation By @zord189







[//]:# (!pinmapple 37.948436 lat -119.789581 long Hetch Hetchy d3scr)
Pinmapple