Hello,
My Dear creative steemians, I'm always trying to give my best one on Steem platform. Because I respect this platform. Curation and upvote is not just a matter of earing for this platform. Curation is just standing for judgment any one's content quality. So every upvote on my post is very meaningful for me. Every comment on my post a great inspiration for me. Engagement of every single steemians on my post always encourages me to do much better for the next one. I'm here for developing my skills and thanks to all beautiful and wise steemians for giving me more and more chances to judge myself as well.
What is the summary of my first paragraph? Very simple today I'm going to share my best-captured photography on Steem Platform and believe that very soon I want to replace the word "My Best" for another one.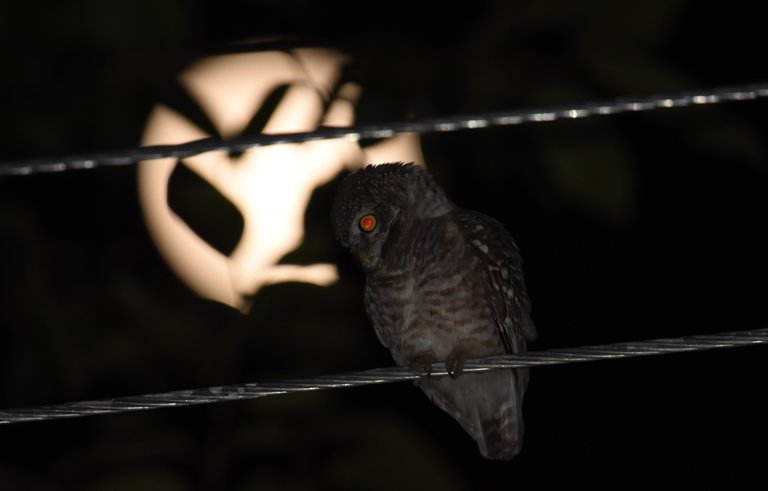 Those pictures are Shooted on a moonlit night at my university campus (University of Chittagong website). Chittagong University is the most beautiful public university in Bangladesh. Because it has great natural beauty. A moonlit night is like a dream in our university. I always like to enjoy the beauty of a moonlit night on my campus. It was Fullmoon when I captured this picture.
After dinner when I go outside form my University Hall to enjoy the beauty of full moon suddenly I Saw the owl was sitting on an Electricity cable, for the first time I became afraid with the red eyes of this Owl. When I was able to understand that It is an Owl I just ran towards my Hall room for my camera. When I leaving my Hall room taking my camera I was praying for the presence of that Owl on this place.
My creator is really Almighty he just heard my prayers and I find the Owl in the same place. This is not my first shoot because I was feeling tense If the owl flyway.
But the owl made me surprised and started to help me by changing its position. Can you imagine the beauty of this picture? You will be confused which is the best in the picture The Owl or The Fullmoon.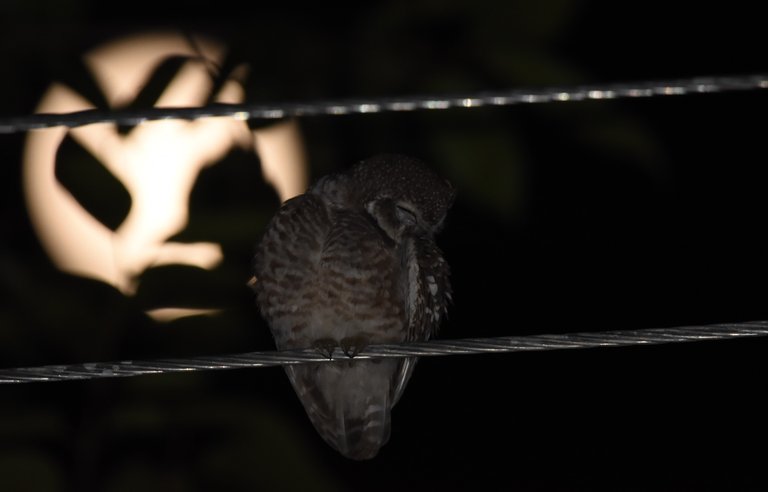 In Hinduism, an Owl is known as a companion of Goddess Laxmi and also consider as a symbol of wealth. It is also famous for its very gentle behavior and I got the proved about its character this day.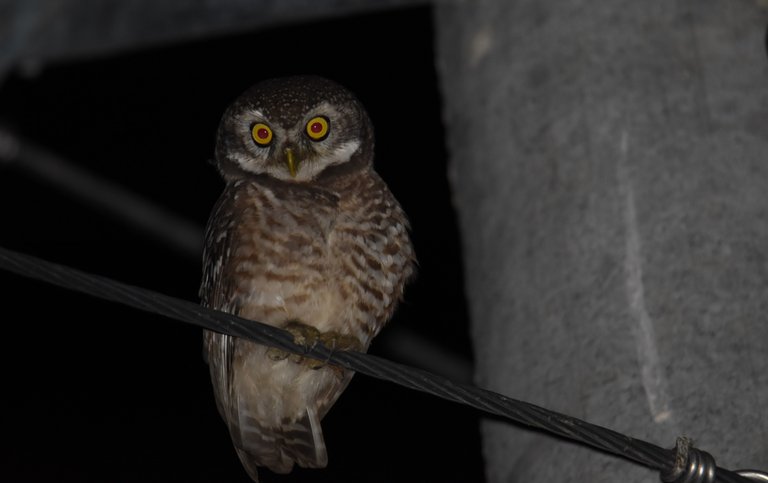 First time I was very afraid after watching its red Ball eyes. But when my eyes were in the lense of my camera. I just waiting for capturing the close picture of its eyes. I have never seen such beautiful eyes of any birds. What a color combination Yellow and red and what a style of looking.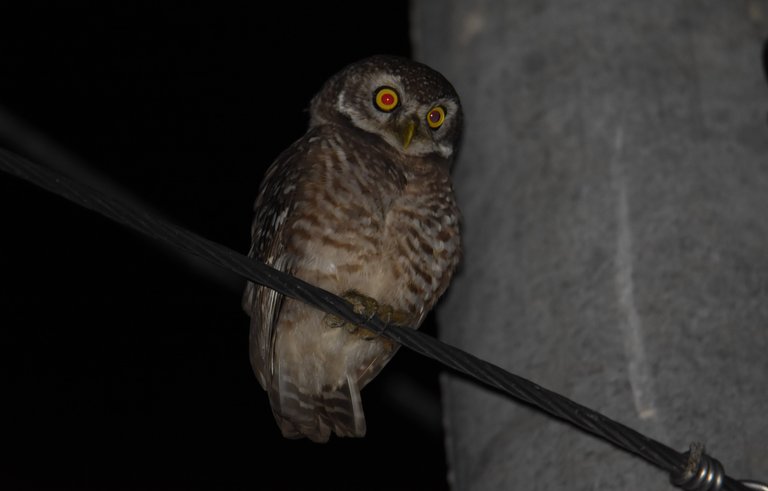 Its eyes are the most beautiful part of its body and then the lip.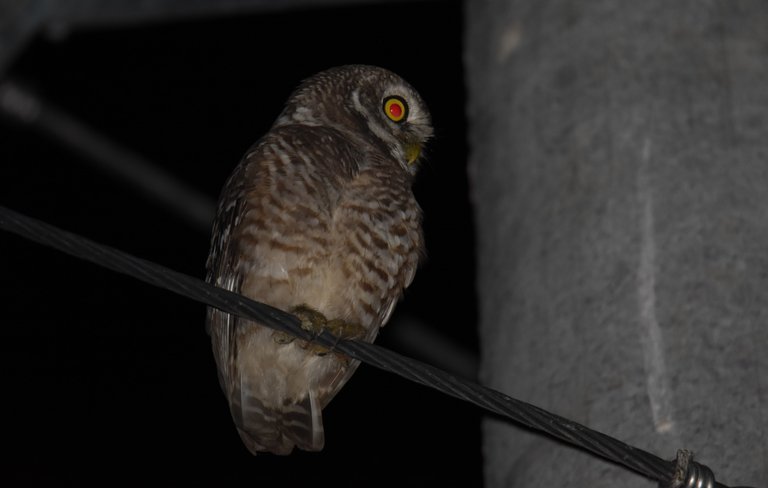 It was continuously looking at me by moving its heads slowly, Sometimes with two eyes and sometimes with a single eye. I felt that it feel comfortable to see or judge anyone by a single eye. Because when it was watching me with a single eye it did not change its head movement about 2-3 minutes. I was able to feel that I was able to catch its full concentration and damn sure it was thinking what the guy is doing here.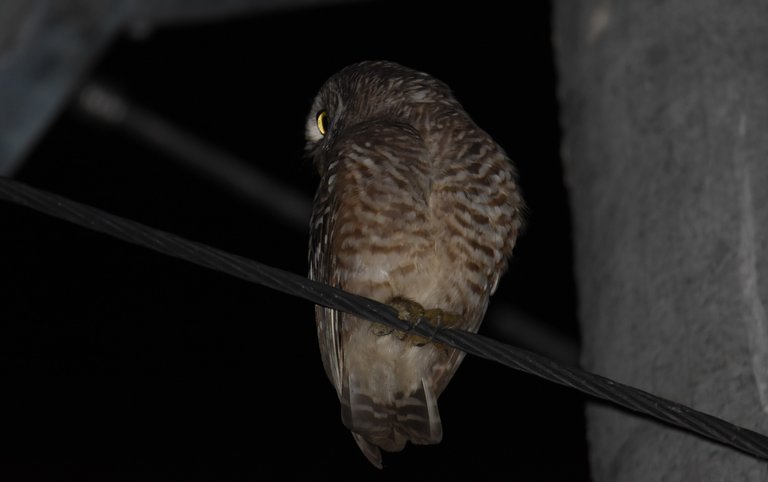 I discovered a great thing about the owl on this day. An owl have a great skill to see its targeted object by moving its head in any position. The above one is the perfect example.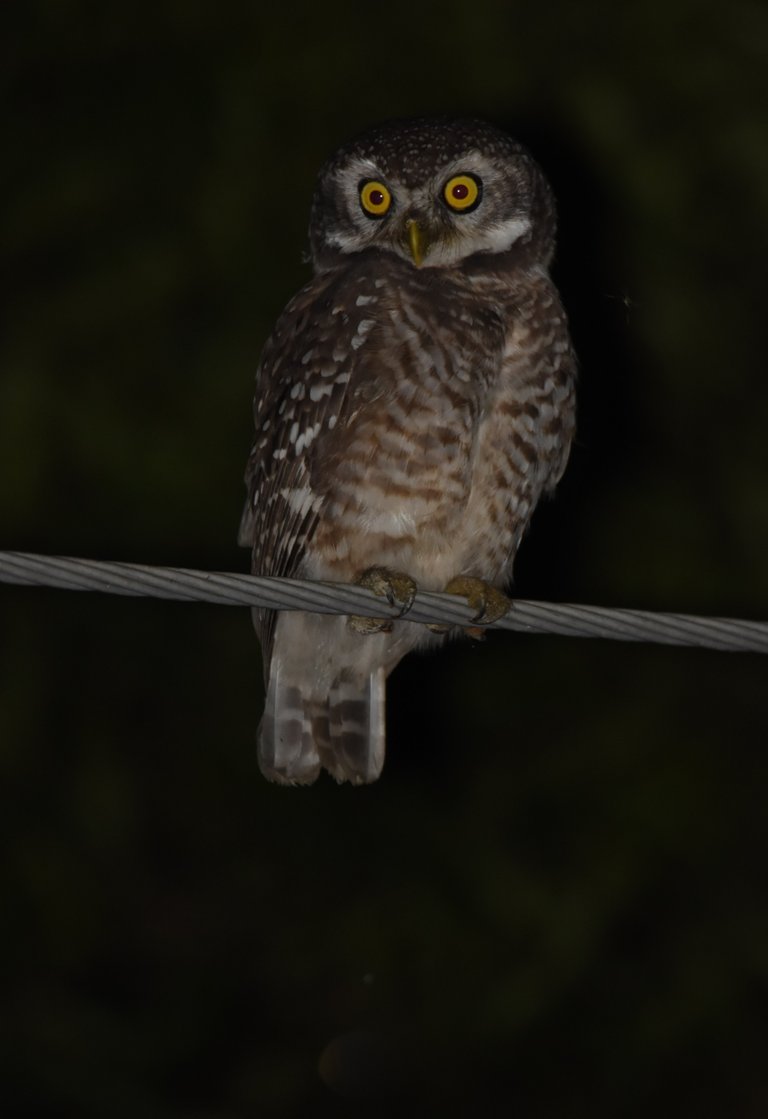 I also tried to capture in a portrait view. But I'm not skilled to capture in portrait view.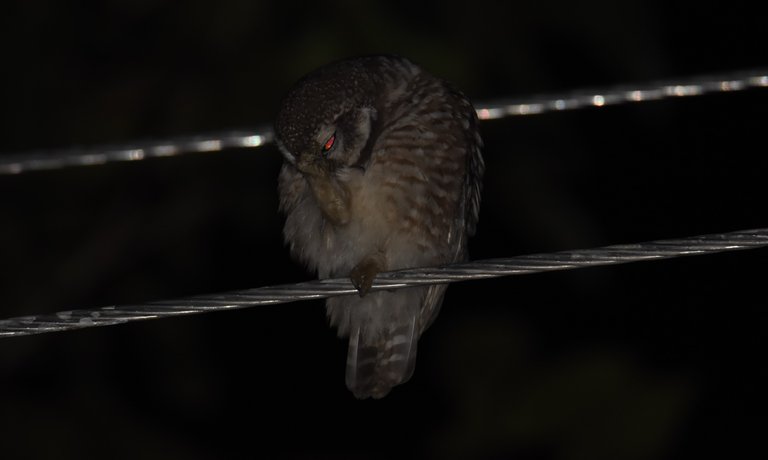 An owl can be a great friend of human beings. Because they are not afraid of human beings. They always enjoy the companion of human beings. I captured Its picture about one hour in those times it never tried to flyway. After combing back my Hall room I was thinking about why it called the companion of Goddes Laxmi and Symbol of wealth and I got the answer to this question after analyzed its characteristics.
If you want to be very rich people you have to show the best performance of your Patience. Without great patience, it is quite impossible to stake wealth and An owl is a symbol of patience. It has a great ability to stay in the same position for a long time.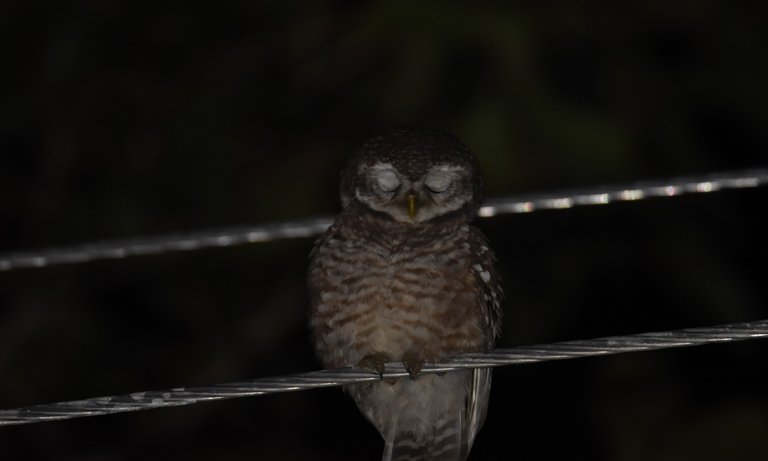 Within this time I just fall in love with the Owl. When It's feeling sleeping I felt better to leave the place and did the same thing.
It was a really great experience for me. I will never forget this experience in my life because The owl Give me the best photography For my Life.
Hope you all like this very much. Please let me know what is your opinion about this capture and what is your best advice for me.
Every Picture is Shooted on Nikkon D5300.
Edited in Photoshop lightroom CC 2019.
Thanks for being with me...