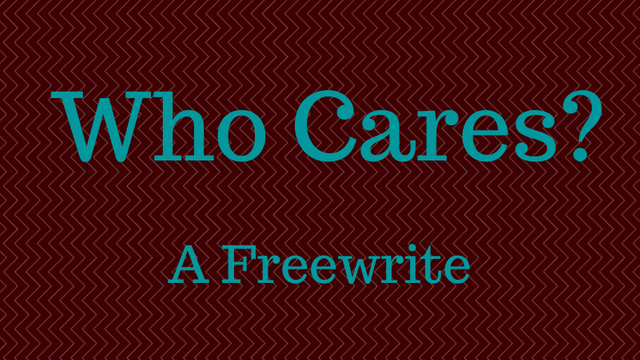 Who Cares? Are you for real? I can't even believe that you are saying this!
She is almost screaming in his face.
" WHO CARES?"
"LET ME TELL YOU. I CARE!! I CARE A WHOLE LOT!
ALL THOSE PEOPLE THAT DONT CARE are the problem.
Problem. Do you hear me? problem!!
And you are right now my biggest problem.
How can you not care?
I don't get it?
!!!!
How in the world can you not care?
I am so upset, I could scream!!!
SCREEEEEEAAAAAAAMMMMMMMMMMM
That is how mad I am that you don't care.
What?
You say that you don't care that I care?
How F...ed up is that?
How, I am asking you, how, can you put one step in front of the other?
Easy, you say?
Easy. Just take a deep breath and go outside. Set one foot in front of the other - and there you are. Running without a care in the world.
Then, Now, you get serious. Caring too much is not going to help anyone or anything, you say.
Do you see how depressed people are because they care and can't do a thing? Or, they think that they can't do a thing.
So, here is what you do.
You go out, you run, you clear your head.
Then, you think of one action you can take.
One,
Just one. Take one action.
What is it going to be?
It's been a while since I have participated in my own Freewrite initiative - such is life... Find the daily prompt on my profile 😀