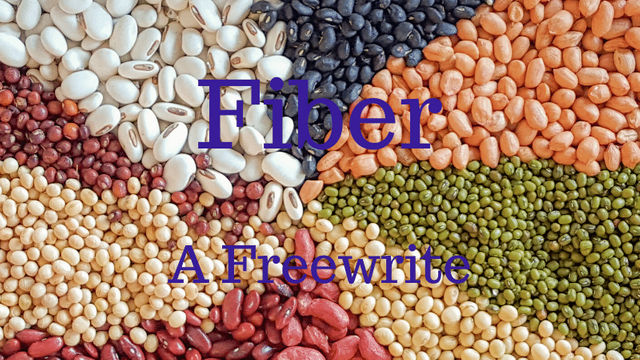 I have to fess up to you all that this prompt came right out of my current interest. Fiber. It could be fiber arts, like working with wool and all that jazz which I am very interested in and I have 8 fleece of wool sitting there, patiently waiting for me to get my garden stuff together and start working on the great wool project - but that is not what this fiber is all about.
I just read - and by read I mean listen to - the book the good gut.
It is written by 2 scientists that have studied the gut - you know, that thing in our bodies. that big tube that goes from our mouth all the way to the final exit point located on our butt, Right in the middle.
Anyway, they are studying the bacteria and such that are living in our gut and are super important for our health. I am not going to tell you about the whole book because I truly think that you all need to listen to it. Actually, I hope that it is still on sale on Chirp. But you probably can get it from the library.
The big take away for me is that fiber is super important. Way more than most people think. They are saying that the hunters and gatherers probably ate about 150 g of fiber a day. The recommendation in the Us is 30 g for a male and 25 g for a woman.
What you need to know - I learned that in a chicken class given by a Pharmacist who had also studied animal husbandry in college.
What she found is that nutrition recommendations for animals are given to ensure optimal health. For people, to ensure that they have the minimum intake to not show symptoms of disease.
Pretty screwed up, right?
Anyway, getting 30 g of fiber is not that easy unless you eat lots of beans. I have a pretty healthy diet, eating mostly fresh food from my garden, whole grains, and pulses. Some meat, but not every day.
Still, I was surprised how little fiber lettuce, veggies and fruit actually have. Mostly, because we bread the fibers out of it and the sweetness into it.
My new project is to keep track of my fiber intake. To my surprise, there aren't any handy tracking apps for fiber.
For calories - yes.
For carbs - yes.
But for fiber, you have to read the nutrition labels and find it way down - and create your own way of tracking it.
Eat your beans, my friends, and try to expose yourself to a variety of healthy bacteria to have a healthy gut.
All kinds of ailments can be traced back to things not looking to good among the tiny little friends that live in your central tube.
This is a freewrite - not much editing happened here. Join us! Find the Daily Prompt on my profile. You also are invited to join us on Discord
The book is still available on Chirp for $ 4.99 but only for a little while. Please use my referral link if you decide to sign up http://fbuy.me/pvFNl