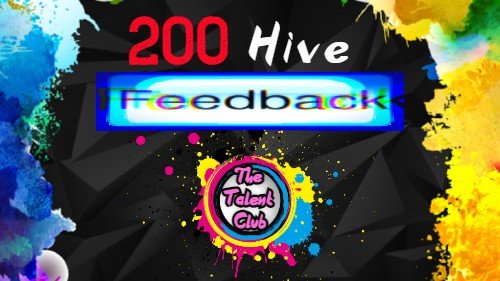 Introduction
   We're always open to listening to the community and that's why we've decided to encourage that feedback distributing a total of 200 HIVE among participants.
   Both positive and negative aspects, as well as suggestions or new proposals, will be well received.
   From The Talent Club we take this opportunity to thank you for your trust in us and for making this club a better place.
Thematic
We want you to tell us, from your point of view, the positive and negative aspects of this club, whether they are related to the creation of the club itself, its management, its impact on the community or its membership.
We also want you to tell us the possible suggestions or proposals that you can think of to make the club a reference on the platform.
Format
   The format will be a video recording, and may be in one of the following ways:
You directly speaking to the camera.
Without your appearance on camera but showing PowerPoint slides or anything like that you can think of.
A mix of both options.
   Video editing in any of its forms will be allowed.
   There's a maximum limit of 5:00 minuts for the length of the video.
Prizes
   There will be 3 main prizes and 2 second prizes:
1st place - 80 HIVE
2nd place - 60 HIVE
3rd place - 40 HIVE
Second prize - 10 HIVE
Second prize - 10 HIVE
Assessment
   The jury will give preference to the following aspects, not necessarily in that order:
Message content, quality of feedback and suggestions.
Final video result.
Originality.
   The main prizes can be declared void if none of the submitted works meets minimum quality standards; in this case, the amount of these three prizes will be divided and drawn among all participants.
Rules
The works must be published within the community of The Talent Club.
The works must contain the #talentclub and #feedback tags.
The works must be titled as Feedback for The Talent Club.
The works must be presented in any of these two languages: English or Spanish.
The works must have been created exclusively for the contest.
Only one work will be accepted per user.
Papers submitted after the deadline will not be accepted.
Deadlines
   From 01/25/2021, 13:00 UTC to 01/31/2021, 13:00 UTC.
---
   All articles published for the contest will receive a vote from the club.
   If you have any questions regarding the contest do not hesitate to stop by our Discord server and we'll help you.
---