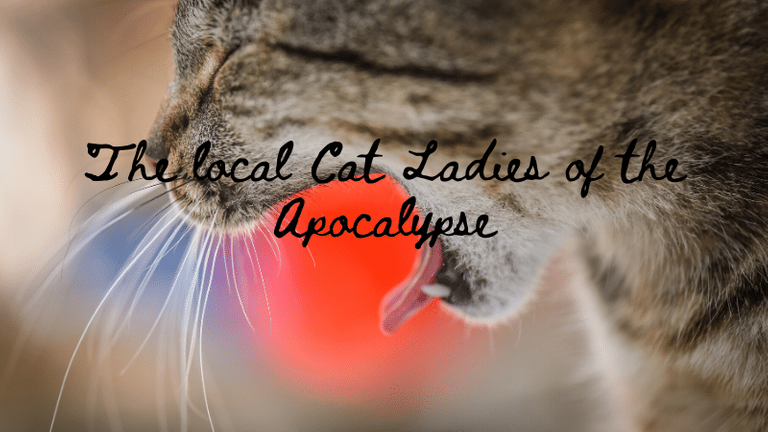 He had an hour to get home. If he didn't make it, the Cat Ladies of the Apocalypse were going to get him. He knew that he shouldn't have stayed out late. After all, they had warned him. First, they had sent him threatening letters signed with wax seals with a cat paw pressed into the wax.
He didn't know what to make of that and thought that his silly neighbor was behind it- you know, the one who really liked him but he couldn't stand her. It was the smell. He couldn't stand the way she smelled. His nose was refined. And all that perfume she was wearing.
But he could still smell her body, a strange smell - yuck.
She kept wanting him to come over and would bring him Tuna Casseroles.
Who likes Tuna anyway? That is cat food - not good for people. Not made for people to eat.
There was a time, he had read about when people actually ate that stuff. Yuck. And Yuck. And double yuck!
What was she thinking to bring him this stuff? Him.
He, he who was so very important in this world.
She, he thought, did send him that warning note nonsense. In the past, she used to send him little notes. He thought this one, the letter telling him to stay home, the one telling him that bad things were to happen to him - the one he threw in the trash. After all, what kind of nonsense is that?!
After the letter, there came the brick through the window with a note telling him to stay home - or else.
That one wasn't signed at all.
But every day now - every day for the past month, he had received a new warning... About two weeks ago, they started to be signed with the local Cat Ladies of the Apocalypse.
Still, nothing else had ever happened and he felt well protected by his bodyguards.
Where were they all?
He knew that they had left the party with him.
Now, he only could see weird shadows between the houses. His eyes couldn't focus, couldn't make out if the shadows were moving towards him. He started to run. Blood was pounding in his ears so loud that he almost didn't hear the miau behind him.
Running, running faster now he tried to reach for his phone.
But he stopped in his tracks when suddenly, he was surrounded by beautiful ladies all holding Tuna casseroles in their outstretched hands.
​This is a freewrite to the Daily 5-Minute Freewrite prompt. Click here for the prompt.