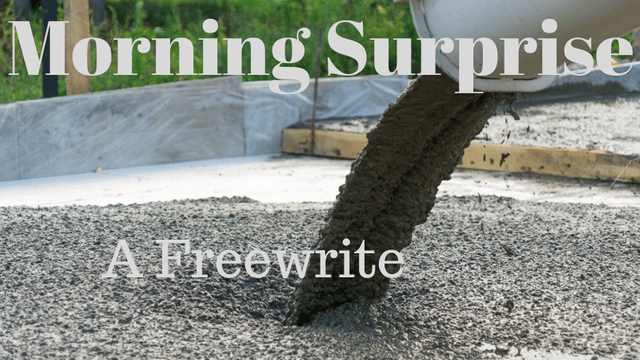 I am sitting here with my coffee mug right next to me. It is the second of the day and I was planning to do this 5-minute Freewrite first thing in the morning. But then, I heard noises outside and it was my son, and a friend, getting all the things they need to build a ledge for skateboarding.
It is their hobby to spent lots of money and time to build skating structures in public places. some stay there for years and others, they have to tear down right away. Oh, the passion. this project required 60 cinder blocks I happened to have laying around in my yard - courtesy of one of the many leftovers from people moving. And courtesy that people don't seem to listen if I tell them that I don't need or want their stuff. Oh well. It now is going to a good use and I don't have to worry about it anymore. Not move it - those suckers are heavy. And gone! yay! one less project on my plate.
Miss BB didn't recognize the friend who came to help to move the concrete mixer, wheelbarrow and all the tools needed for such a project. Two truckloads of cement are already on the site, waiting for the builders to come and do their thing. It really is a big project. Just saying. There is a lot of dedication on the part of the builders. They are shlepping in a generator, several barrels of water, all the tools, and supplies.
The fun seems to be in the building since they haven't really gone back to skate the ramp they were doing last. There are many such projects all over San Diego and one of the best Skate parks on Washington Street started out as a group of friends getting together and building stuff.
And Miss BB was barking her head off, my son got something in his eye and needed to rinse and get eyedrops, his friend and I had a great conversation - he is getting his Ph.D. in Anthropology and told me about his studies in Indonesia. Actually, all of that was more fun than a quiet cup of coffee. And that things hardly ever go as planned is part of my daily routine.

We now have a community!! Join the Freewriters!
Sign in with your steem name and posting key
Go to explore communities
Join the Freewriters
Post your Freewrite through the community if you wish.

Join us for the daily 5 - Minute Freewrite. Check my profile for a new prompt every day.
I am adding the CC tag to all prompt posts and to most of my other posts as well. You can earn Comment Coins simply by leaving a good comment. No spam please!!!

All images are my own unless otherwise cited.
Graphics made on Canva.



Animation By @zord189

#SoCalSteemit is building and supporting the Steemit community of Southern California. If you are from SoCal and are into creating quality content here on Steemit, we'd love for you to follow us @SoCalSteemit and join our group on Discord!

Join @Actifit, become healthier by being active and earn as you walk. My referral link
Join us at the Freewrite House for fun and games!!! Weekly drawing for SBI memberships and so much more!!

And get your Freewrite House Swag here