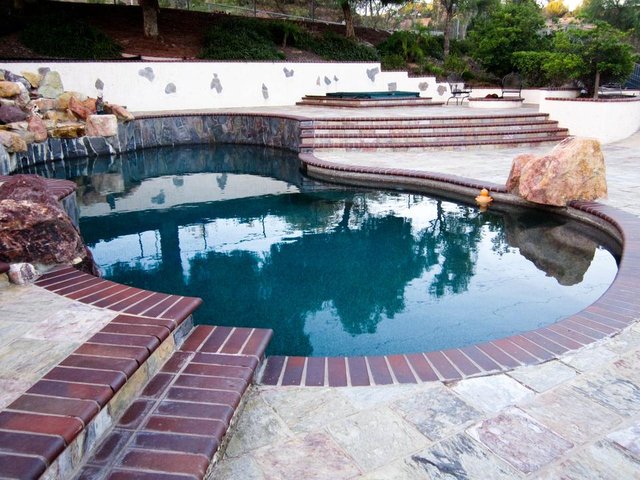 I helped an 84 year old lady recover from hip replacement surgery a few years ago in Fallbrook California. I lived-in at "The Compound" where she lived with her daughter and son-in-law. The job lasted for 12 weeks.
The property had a big mansion for the main house and I lived in "The Cottage" with my patient. This little place was a mansion of its own as far as I was concerned. My second Cottage bedroom alone was bigger than the last apartment I had lived in. We had two bathrooms and a kitchen and beautiful patios outside each door.
Everything was lovely in the compound. Above you can see my pool. I was the first person to swim in it for years and enjoyed it a few nights a week. I had grounds to walk on during my off hours with views of wineries and avocado tree groves.
The lady I was taking care of was a feisty one. She had raised her five kids alone after taking off from an abusive husband and moving to another state alone. All of the other kids visited and obviously loved her dearly. I was glad to be a part of that family for the time I was.
Complicating the hip replacement was an terrible case of edema that the lady had carried for at least ten years. Her feet were two balls of mush and she could only wear big stretchy socks on them.
Shoes had not been a part of her life for many years. She used a walker, and kind of limped around trying to keep her feet off the ground. It was awful to see.
This was the reason she needed a hip replacement. She had fallen and broken her hip while trying to walk in her strange way.
I decided to "cure" her edema if we were to have any chance to get her walking normally again. She had several caregivers coming in at the time and all of them told me I would not succeed. These workers were giving her physical therapy, occupational therapy and nursing care. They each told me they would work around the edema since it would not go away.
But I did succeed, and the edema did go away.
It took about six weeks to get the fluid level down to where we were able to get this lady into shoes. She loved her new Sketchers and went on to heal up very well. She began to start walking without the walker for the first time in years. Another month later she needed shoes in the next smaller size down.
Here are the steps I took with her:
massage
foot soaks in clay, AVC, Epson Salts, baking soda and other potions I had with me
elevating her feet in bed at night
elevating her feet above her heart periodically during the day
various exercises to fight edema
wearing tight-ish knee socks
drinking lots of fluids and urinating frequently
The caregivers were shocked at my success and said they had never seen anything like it before. We even had a visit from the case manager to talk to me about what I had done.
Midway through the reduction in edema, My patient's feet turned yellow. It was a sickly color and scared me. At the same time she started complaining of being itchy all over and feeling sick. The edema had shrunk to about 50% of where it started, so now what was going on?
I asked the next caregiver who came to visit to look at this and tell me what she thought. She said the yellow color meant we were looking at "old" edema that had been there so long it was full of toxins. She said this needed to get out of the body as quickly as possible. It was now circulating and causing the other symptoms. But it was actually a good sign that we were getting near the end.
A couple of weeks later my patient's feet were a lovely pink color. Her thin ankles were showing and she had mobility in them. She could stand with no pain. All of the itchiness and sickness was gone. It was one of the proudest moments in my life.
Today I feel itchy all over, I'm coughing and feeling sick. I just looked down to see my feet the same sickly yellow. They are not as huge as they were a few days ago, and I can actually fit them into my biggest sandals. But this yellow color means I need to keep on top of what is happening.
Time to up my edema curing game. I've only had it for about 6 weeks instead of ten years. But still I am in that pattern of toxins being released, and now is the time to renew my efforts.
Please wish me well my friends. I am exhausted from this and ready to feel better any time. I'm praying pink feet are coming soon.
I used a Canon ELPH160 point and shoot camera for this photo.
What I do on STEEM
freewrite daily with @mariannewest
Minnow Tips
Photography
Travel
Food and ccc contest posts
Tasteem restaurant reviews
@pifc contest entries
dApp, tokens/tribes and gaming review posts
dpoll- STEEM and lifestyle questions
BitcoinMalaysia playing card posts; coming soon!
My most recent summary of Minnow Tips is here:
These tips will help you if you are new and struggling on STEEM. Tag me in any comment, and I will help you if you ask me to.
Find me on Discord:
fitinfun#2249
Email me:
sjfrenchtosd at yahoo.com <<< NOT my paypal address



I am a proud member of @socalsteemit. We bring Southern California to you on the STEEM blockchain. If you have a connection to this area, please join us. We would love to have you!