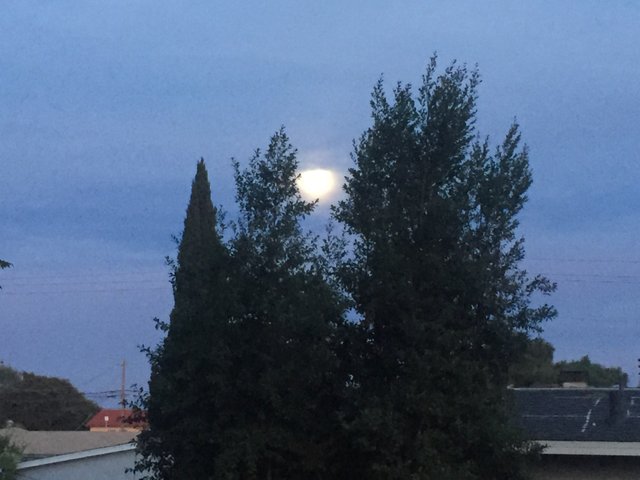 Usually, I am not lucky when I try to take a photo of the moon. Today, I was lucky - at least for my skill level, I ended up with a decent picture to share with you.
This morning, I started micro greens by soaking the bigger seeds. Later, I was kind of amazed how many people were out shopping at Costco
When leaving, I noticed big dirt hills where once a big store - Baby's r us- used to be. Costco is building a gas station at their Fletcher Parkway location. I am sure the gas station owners in the surrounding area are not going to like it, but all Costco shoppers will for sure!!
Garden cleanup, worm compost, starting greens for the chickens, planting the sprouted potatoes, and ..... was on the afternoon agenda.
The main feature of dinner was greens from the garden. Yummy 😋

Join us for the daily 5 - Minute Freewrite. Check my profile for a new prompt every day.
I am adding the CC tag to all prompt posts and to most of my other posts as well. You can earn Comment Coins simply by leaving a good comment. No spam please!!!

All images are my own unless otherwise cited.
Graphics made on Canva.


Animation By @zord189

#SoCalSteemit is building and supporting the Steemit community of Southern California. If you are from SoCal and are into creating quality content here on Steemit, we'd love for you to follow us @SoCalSteemit and join our group on Discord!

Join @Actifit, become healthier by being active and earn as you walk. My referral link
Join us at the Freewrite House for fun and games!!! Weekly drawing for SBI memberships and so much more!!

And get your Freewrite House Swag here

7266

Daily Activity,Gardening,Shopping